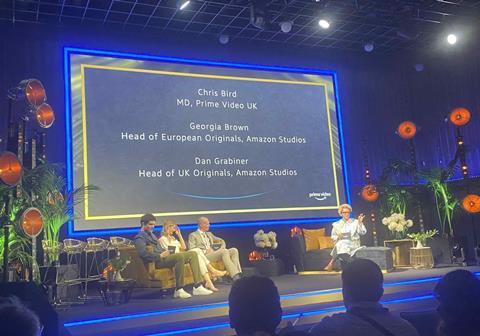 Amazon has revealed it has spent over £1 billion on TV, films and sports content in the UK since 2018 for its streaming service Amazon Prime Video.
The figure is the first time the streamer has announced its UK content expenditure. It was revealed by Chris Bird, managing director of Prime Video UK, at its Prime Video Presents UK 2022 event at The Londoner Hotel this morning where it showcased its upcoming programming.
Bird said Prime Video had "invested massively" in the UK, and it is "here for the long term". The streamer recently took a long-term lease at Shepperton Studios where it is adding nine sound stages, while the big budget Lord Of The Rings series is about to start filming its second season in the UK.
The showcase saw senior Prime Video UK executives talk about the streamer's UK strategy and stress its commitment to the UK creative industries.
Bird said "film is a critical part of our offering" and that the streamer had long known its importance to its subscribers. The streamer last year acquired New Regency, Film4 and Warp Films's Everybody's Talking about Jamie, which garnered a Bafta nomination this year for outstanding British film.
UK films coming up through Amazon include romantic drama My Policeman, starring Emma Corrin and Harry Styles, directed by Michael Grandage; Lena Dunham's UK- set Catherine Called Birdy; and Xmas movie Your Christmas or Mine?, starring Asa Butterfield.
As part of the showcase, Amazon announced new original drama Fifteen-Love from ITV Studios' World Productions, the producer of Bodyguard, Vigil and Line of Duty. The scripted drama is created and written by Hania Elkington and is set in the world of elite tennis.
The streamer also showcased upcoming UK drama series including Scottish oil rig-set thriller The Rig, Hartswood Films' The Devil's Hour, grime and drill musical drama Jungle, psychological thriller Wilderness and Jez Butterworth's comedy drama Mammals.
Georgia Brown, head of European originals at Amazon Studios, said Amazon has a small commissioning team compared to other platforms and broadcasters, and sets out to make "low volume but high quality" content. She said Amazon likes to spend a long time working with creators to shape and mould film and TV series to help them stand out in a competitive market.
Dan Grabiner, head of UK originals at Amazon Studios, said that the streamer's slate had initially skewed to unscripted content such as The Grand Tour, All or Nothing and Clarkson's Farm. But he said that viewers will see the slate "significantly diversify" over the next twelve months with the launch of the first scripted s hows and comedies out of the UK. Grabiner said shows needed twists, innovative casting or jaw dropping elements to get an Amazon greenlight.
"Being distinctive is key," he said. "There is so much good TV and film and out there. The message we get from customers is ordinary is not good enough."
Head of UK scripted original Jonathan Lewsley said the streamer is focused on stand-out, entertaining shows that are unconventional and that viewers can't find anywhere else.
During the showcase, Amazon also announced Get Out and Black Panther star Daniel Kaluuya is to voice the next instalment of its hit sports doc franchise, All or Nothing, which focuses on London's Arsenal Football Club. Kaluuya is an avid Arsenal fan.
Sam Mendes is also presenting a Whisper Films documentary for Amazon on the life and career of England cricket captain Ben Stokes. At the showcase, a pre-recorded interview showed Mendes – a self-confessed Ben Stokes fan-boy - talking with the cricketer about his reasons for making the documentary.
Louis Theroux also interviewed YouTube star KSI on stage, where he upcoming feature documentary which will launch on Amazon Prime Video in November.
Theroux is executive producing the doc, produced through his Mindhouse Productions, which follows KSA as he prepares for a European tour, but also reveals what his life is like behind the scenes and as he undergoes therapy to deal with personal challenges.