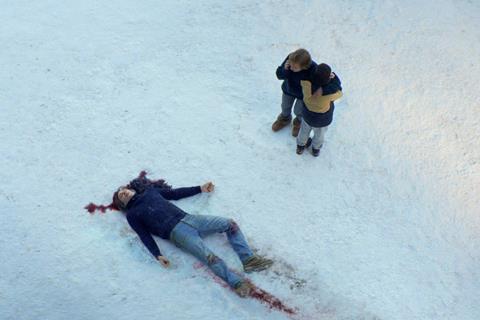 French writer-director Justine Triet's Anatomy Of A Fall has won the Palme d'Or at the 2023 Cannes Film Festival.
Scroll down for full list of winners
The Hitchcockian mystery thriller is about a woman, played by Sandra Hüller, accused of murder when her husband dies of suspicious causes.
Triet and the film's team earned a long standing ovation at the ceremony, held at the Grand Theatre Lumiere, with the director telling the audience that it was "the most intimate film I've ever written."
She is the third female director to win the Palme d'Or following Julia Ducournau for Titane in 2021 and Jane Campion, who shared the award for The Piano with Farewell My Concubine in 1993.
Anatomy Of A Fall is the fourth straight Palme d'Or winner to be acquired by Neon for North America, whilst Picturehouse has UK and Ireland rights. mk2 handles international sales.
In her speech, Triet also mentioned protests against President Macron's recent controversial pension reforms, which include raising the official retirement age in France to 64 by 2030.
She said: "This protest has been denied and repressed in shocking ways, and this increasingly unabashed pattern of domineering power breaks out in many areas. Obviously socially, that's where it's most shocking, but you can also see it in every other sphere of society, and cinema is no exception. The commodification of culture that the neoliberal government defends, is breaking the French cultural exception."
Other prizes
Anatomy Of A Fall star Hüller also appears alongside Christian Friedel in Jonathan Glazer's The Zone Of Interest which won the runner-up Grand Prix award. The Holocaust drama follows an Auschwitz commandant and his wife and shows the unseen horrors of the camp through the atypical lens of their dreamy domestic life. It is Glazer's first film in a decade and based on the novel of the same name by Martin Amis, who died just shortly after the film's Cannes premiere. Glazer honoured Amis in his speech, saying: "I am so grateful that we got to show the film to him."
In a delicious twist, Tran An Hung was named best director for The Pot-Au-Feu following his 1993 Caméra d'Or win for the Scent of Green Papaya. The love story set in the world of gastronomy stars Juliette Binoche and Benoit Magimel.
Orlando Bloom introduced the jury prize that went to Aki Kurismaki's bittersweet romance Fallen Leaves, after the film topped Screen's jury grid earlier in the day. It was the prolific Finnish filmmaker's seventh film in Cannes, and fifth in Comp­etition.
Yuji Sakamoto won the best screenplay award for Japanese auteur Hirokazu Kore-eda's Monster. John C. Reilly presented the prize and arrived on stage with a long comic pause before saying "what we just experienced is what a movie would be like without screenwriters".
Turkey's Merve Dizdar took home the best actress prize for Nuri Bilge Ceylan's About Dry Grasses. The film follows a teacher doing a mandatory stint at a small village in Eastern Anatolia. Dizdar read a prepared speech in her native Turkish, dedicating the prize "to all women who overcome challenges to exist in this world and to hold hope."
Best actor went to Koji Yakusho for Wim Wenders' Perfect Days. The film follows a toilet cleaner in Tokyo as he explores the simple beauty of the world around him.
The Camera d'Or, that awards the best first features through all sections, went to Thien An Pham's Inside the Yellow Cocoon Shell that premiered in Directors' Fortnight.
This year's jury was presided over by last year's Palme d'Or winner Ruben Östlund, and also included Maryam Touzani, Denis Ménochet, Rungano Nyoni, Brie Larson, Paul Dano, Atiq Rahimi, Damián Szifron and Julia Ducournau.
Other highlights
The ceremony paid tribute to Roger Corman with Quentin Tarantino introducing the legendary filmmaker and producer, calling him "my hero" before Corman arrived to the first standing ovation of the evening. "I've never understood the notion of guilty pleasure. Pleasure is pleasure. I personally love raw freaky twisted movies," Tarantino said of Corman's work. Corman told the audience that "this is the most interesting film festival in the world and you're all so lucky to be part of it."
Also speaking on stage, Jane Fonda said that when she first came to Cannes in 1963 "there were no women directors even competing at that time and it never occurred to us that there was something wrong with that, so we've come a long way, but we have a long way to go." She cited the seven female filmmakers in the 2023 competition, saying "it's historic, but one day it will be normal".
The ceremony was followed by a screening of Pixar's Elemental animated film directed by Peter Sohn.
The winners of prizes for the Un Certain Regard, Directors' Fortnight and Critics Week strands were announced earlier this week.
Cannes 2023 Competition awards
Palme d'Or: Anatomy Of A Fall. dir. Justine Triet
Grand Prix: The Zone Of Interest, dir. Jonathan Glazer
Best Actor: Koji Yakusho, Perfect Days
Best Actress: Merve Dizdar, About Dry Grasses
Jury Prize: Fallen Leaves, dir. Aki Kaurismäki
Best Director: Tran Anh Hung, The Pot-Au-Feu
Best Screenplay: Yuji Sakamoto, Monster
Camera d'Or: Inside The Yellow Cocoon Shell, Dir. Pham Thien An
Short Film Palme d'Or:27, dir. Flóra Anna Buda
Special mention: Fár, dir. Gunnur Martinsdóttir Schlüter