Fox's sequel retains top spot with $6.4m (£3.8m) second weekend; Paramount's Hercules muscles in with $2.46m (£1.45m).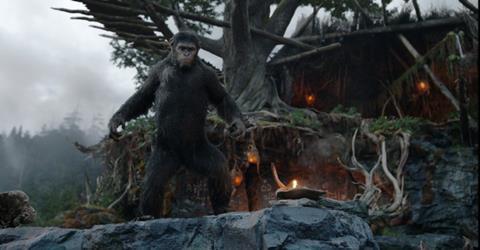 Doing what its predecessor couldn't, Dawn of the Planet of the Apes has reigned over the UK box office for the second consecutive week.
Fox's sequel swung to an additional $6.4m (£3.8m), dropping 48% (excluding previews), and has amassed $28.8m (£17m) after just 11 days in play. It should surpass Rise of the Planet of the Apes' $35.3m (£20.77m) UK result by the end of next weekend at the latest.
Whether it can become only the second 2014 release (along with The Lego Movie) to hit the £30m mark is likely to depend on how it copes with the arrival of Guardians of the Galaxy this week.
Also for Fox, How to Train Your Dragon 2 flew past the £15m mark in its fifth weekend of release (third of nationwide). The animated sequel added $1.7m (£990,959) for $25.7m (£15.1m) to date in its quest to overtake its predecessor's $29.6m (£17.4m) UK haul.
The Fault in Our Stars has grossed $18.7m (£11m) after six weeks in play.
PARAMOUNT
This week's highest new entry came in the muscular form of Paramount's Hercules which charted second with a $2.46m (£1.45m) bow from its 441 sites.
That's already some way ahead of the entire UK gross of 2014's other Hercules release, The Legend of Hercules, and is on par with the debut of director Brett Ratner's last UK outing, Tower Heist ($2.48m/£1.46m from 416).
Also for Paramount, Transformers: Age of Extinction is up to $29.5m (£17.4m) following a $1.4m (£803,063) third weekend. Its main target is the $39.9m (£23.5m) result of Transformers to avoid becoming the series' weakest UK performer.
UNIVERSAL
Arriving in third with a $2m (£1.16m) bow at a $5,128 (£3,019) site average was Universal's The Purge: Anarchy. That's an opening up on The Purge which started with $1.7m (£1m) from 348 on its way to $5.9m (£3.5m), a target well in the sights of the sequel.
Also for Universal, Boyhood fell just 11% in its third weekend to take $474,000 (£279,000) for $2.4m (£1.42m) to date. That's the best UK performance for director Richard Linklater, outside of the more mainstream School of Rock, and Boyhood shows no sign of slowing down yet.
Mrs. Brown's Boys D'Movie is up to $23.6m (£13.88m) after five weeks in play.
EONE
Earth to Echo landed with a $1m (£610,000) debut, including $75,000 (£44,000) in previews, from its 457 sites through eOne. It's a solid, if unspectacular, start for the family sci-fi, which faces further competition this week with the arrival of The Nut Job as the school holidays get into full swing.
Also for eOne, Begin Again took a further $136,000 (£80,000) for $2.2m (£1.3m) to date.
STUDIOCANAL
Released in 308 sites through StudioCanal, animation The House of Magic posted a UK debut of $376,000 (£222,262).
VERTIGO FILMS
Falling over 50% in its second weekend, Vertigo Films' Pudsey the Dog: The Movie grossed $271,000 (£159,346) from its 415 sites for $1.5m (£897,927) to date.
SONY
Sony's hit comedy sequel 22 Jump Street added $166,000 (£98,000) to climb to $31.1m (£18.3m) after eight weeks in play.
DISNEY
Now in its ninth weekend of release, Disney's Maleficent has now conjured up $31.4m (£18.52m) in the UK following a $124,000 (£73,000) weekend.
CURZON FILM WORLD
Released simultaneously on VoD, Curzon Film World's Joe posted a UK theatrical debut of $55,000 (£32,215) from its 37 sites. That's up on the 16-site $20,000 (£11,569) opening of director David Gordon Green's last UK release, Prince Avalanche.
ARROW FILMS
Northwest and the re-issue of Seijun Suzuki's Branded to Kill grossed $1,100 (£650) and $825 (£486) from three and two sites, respectively, through Arrow Films.
UPCOMING RELEASES
This week sees saturation releases for Disney's Guardians of the Galaxy (opens July 31), Universal's Step Up 5: All In and Warner Bros' The Nut Job.
StudioCanal's Mood Indigo receives a wide release, while Wildcard's Blackwood and Altitude's A Promise are among the films receiving a limited release.