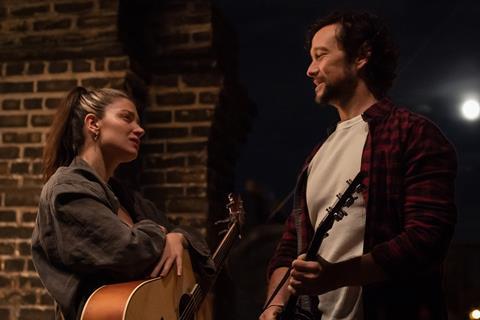 Apple Original Films has secured global rights to John Carney's Flora and Son in a deal believed to be in the $20m range, following a buzzy Sundance launch for the film.
The music drama starring Eve Hewson and Joseph Gordon-Levitt premiered at the festival on Sunday, January 22.
As first reported by Screen, Flora and Son had been subject to a Sundance bidding war, with Apple and Amazon among those interested.
It is the streamer's latest Sundance acquisition, after Audience Award winner Cha Cha Real Smooth starring Dakota Johnson in 2022; Audience, Directing and Special Jury Award winner CODA in 2021, which went on to last year's best picture Oscar; and US Documentary Grand Jury Prize winner Boys State in 2020.
The film stars Hewson as a single mother at war with her teenage son, who is a petty thief. After rescuing a beat-up guitar from a dumpster, she finds that one person's trash can be a family's salvation. Oren Kinlan and Jack Reynor also star in the film.
Flora and Son is written, directed and produced by Irish filmmaker Carney, who previously debuted 2016's Sing Street and 2007's Once at Sundance.
Producers are Anthony Bergman, Peter Cron, Rebecca O'Flanagan and Robert Walpole; executive producers are Cathleen Dore, Milan Popelka and Alison Cohen.
WME Independent, Fifth Season and FilmNation represent sales.