eOne's critically acclaimed sci-fi achieves director Denis Villeneuve's best-ever UK opening.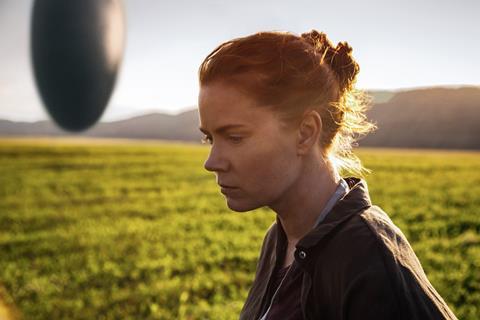 UK TOP FIVE
| Ranking | Film/Distributor | Weekend gross | Running total |
| --- | --- | --- | --- |
| 1 | Arrival (eOne) | $3.63m (£2.92m) | $3.63m (£2.92m) |
| 2 | Doctor Strange (Disney) | $2.92m (£2.34m) | $24.4m (£19.58m) |
| 3 | Trolls (Fox) | $2.26m (£1.81m) | $24.1m (£19.32m) |
| 4 | The Accountant (WB) | $1.27m (£1.02m) | $4.51m (£3.62m) |
| 5 | A Street Cat Named Bob (Sony) | $1.07m (£860,000) | $3.24m (£2.6m) |
(Note - Dollar conversions are based on today's rates)
EONE
Propelled by strong reviews, Arrival dethroned Doctor Strange to land top of the UK box office.
eOne's sci-fi soared with a strong non-final $3.63m (£2.92m) debut from its 561 sites, including $441,000 (£354,052) in previews. It's worth noting that its Fri-Sun tally of $3.19m (£2.56m) would have also seen it chart top.
That marks the best-ever UK opening for director Denis Villeneuve, surpassing Sicario's $1.99m (£1.6m) from 434 sites, which included $274,000 (£219,737) in previews.
Prisoners is currently Villeneuve's best-ever UK performer with $9.1m (£7.3m). Arrival will hope to continue to prosper, despite Fantastic Beasts landing this Friday (November 18), to challenge that tally.
Also for eOne, The Girl On The Train journeyed to an extra $595,000 (£477,110) for $28.5m (£22.9m) to date, surpassing Gone Girl's final UK haul, while The Light Between Oceans added $282,000 (£226,094) for $1.73m (£1.39m) after two weeks.
Currently playing in 217 sites, I, Daniel Blake grossed a further $216,000 (£173,174) for an impressive $3.17m (£2.54m) after four weeks in play.
The BFG has now amassed $38m (£30.51m).
DISNEY
Doctor Strange fell a respectable 32% on its way to a $2.92m (£2.34m) third weekend as it dropped to second.
Disney's latest Marvel offering has now conjured up $24.4m (£19.58m) after 20 days in play and, as expected, has overtaken Iron Man to become the second-biggest Marvel original offering (not a sequel).
Overall, it is currently the eighth biggest Marvel outing, but it will soon surpass Thor: The Dark World ($25.1m/£20.13m) and Iron Man 2 ($26.4m/£21.18m).
Also for Disney, Finding Dory and Pete's Dragon stand at $53.3m (£42.75m) and $6.44m (£5.17m), respectively.
FOX
Trolls dropped only 9% (and rose 22% on Saturday) with a non-final $2.26m (£1.81m) fourth weekend as it fell to third.
Fox's latest DreamWorks Animation outing is now up to a healthy $24.1m (£19.32m) and will soon overtake Kung Fu Panda's $25.3m (£20.29m) result. Next in its sights: Monsters Vs Aliens ($26.6m/£21.37m).
Also for Fox, Miss Peregrine's Home For Peculiar Children added $213,000 (£170,924) for $15.2m (£12.16m) to date, making it Tim Burton's fourth-best UK result.
Ae Dil Hai Mushkil stands at $1.68m (£1.35m) after three weeks in play.
WARNER BROS
The Accountant fell 33% as it dropped to fourth with a $1.27m (£1.02m) second weekend.
Warner Bros' action thriller has now accumulated $4.51m (£3.62m) in the UK and is already director Gavin O'Connor's best-ever performer.
Also for Warner Bros, Storks flew to $424,000 (£340,000) after a slim drop of 8% to lift its running total to $7.78m (£6.25m).
SONY
A Street Cat Named Bob enjoyed an excellent hold as it fell only 12% with a $1.07m (£860,000) second weekend.
Sony's adaptation of the heartwarming true story increased on Saturday (November 12) by 16% and is now up to a decent $3.24m (£2.6m) in the UK, making its mark despite a crowded field.
Also for Sony, Inferno uncovered $147,000 (£118,000) for $10.2m (£8.2m) after five weeks in play.
UNIVERSAL
Nocturnal Animals expanded to 358 sites, helping it post a slim 12% decline (excluding previews) with a $768,000 (£616,204) second weekend.
Universal's dark thriller is now up to a solid $2.3m (£1.85m) and will hope for a similarly sturdy hold to challenge the $3.99m (£3.2m) result of Tom Ford's debut feature A Single Man.
Also for Universal, Bridget Jones's Baby delivered another $248,000 (£198,699) for a whopping $59.2m (£47.53m) to date.
PARAMOUNT
In its fourth weekend, Paramount's Jack Reacher: Never Go Back shot to a further $411,000 (£330,000) for $9.47m (£7.6m) to date.
ENTERTAINMENT
Released in 81 sites, Entertainment's American Pastoral could only manage a $71,000 (£56,832) UK debut.
PICTUREHOUSE ENTERTAINMENT
From its 21 sites through Picturehouse Entertainment, Anne Fontaine's The Innocents posted a UK bow of $30,000 (£24,133).
BFI DISTRIBUTION
The BFI's re-issue of Abel Gance's silent French epic Napoleon grossed a non-final $25,000 (£20,321) from its 25 sites, with figures still to come from its screening at Leeds International Film Festival.
CURZON ARTIFICIAL EYE
Venice 2015 title Francofonia recorded a UK debut of $10,900 (£8,785) from its four sites through Curzon Artificial Eye.
VERTIGO RELEASING
Including its BFI Blackstar preview, Vertigo Releasing's 100 Streets grossed $6,500 (£5,237) from its one-site release.
UPCOMING RELEASES
This week sees a saturation release for Warner Bros' Fantastic Beasts And Where To Find Them.
National Amusement's Your Name receives a wide release, while Dogwoof's Gimme Danger, Vertigo Releasing's Indignation and Signature Entertainment's Dog Eat Dog are among the films receiving a limited release.