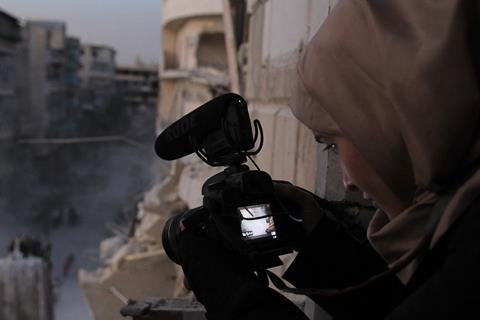 Fresh from winning the audience award and documentary feature award at SXSW, and in advance of its special screening in Cannes, 26-year-old Syrian filmmaker Waad al-Kateab's film For Sama has been picked up for international sales by Vienna and LA-based Autlook Filmsales.
Autlook has For Sama for all the world excluding the UK and North America. PBS Distribution will be giving the film (also selected for Hot Docs) a theatrical release in North America in July.
Co-directed by Edward Watts, For Sama tells the story al-Kateab's often traumatic experiences in Aleppo, then under occupation, during five years of Syrian civil war. The title was announced as a Special Screening in the Cannes Official Selection last week.
"While I was in Aleppo I dreamt of making this film for my daughter Sama — to explain to her why we stayed. I feel it does justice to our experience, our sacrifices and the unimaginable pain of what we, the Syrian people, endured during those years of the revolution. It's our story, our voices, and I'm proud of it. This film is also for the people lost — a testament to their sacrifices," al-Kateab commented to Channel 4 News and ITN Productions, producers of the film for Channel 4 and Frontline PBS.
In advance of the market screenings in Cannes, Autlook CEO Salma Abdalla is already reporting strong interest in the film from distributors who want to give it a theatrical release.
"We've already had first interest from France, Australia and Japan coming out of SXSW but we haven't signed with anybody yet,"
"For Sama is one of the most remarkable films from Syria I've ever seen," Abdalla added. "Waad Al-Kateab and Edward Watts pushed boundaries, while breaking down all barriers and preconceptions when it comes to Waad's personal story. Heart-wrenching footage shot over 5 years, told as a gripping love letter to Waad's daughter is an unforgettable experience we cannot wait to share with the industry in Cannes."