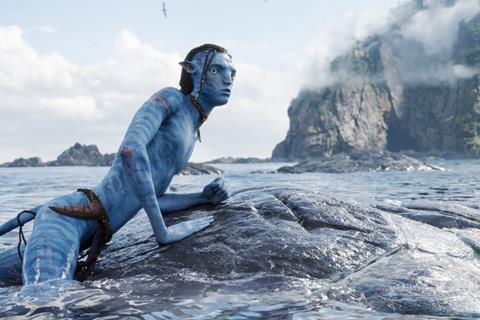 Avatar: The Way Of Water has crossed the $1bn global box office mark on its 14th day in cinemas, becoming the fastest release to do so since Spider-Man: No Way Home in December 2021 and the fastest in 2022.
The result, confirmed by Disney executives on Wednesday morning, follows a $74.6m Tuesday global haul that elevated the running total to $1.0298bn. A $50.8m international gross pushed the tally to $712.7m, while $23.8m from North America raised the haul to $317.1m.
The Disney/Lightstorm tentpole is the sixth film to achieve the feat within its first two weeks of release and the fourth Disney release to do so. It has overtaken Jurassic World: Dominion to become the second highest grossing release of this year behind Top Gun: Maverick on $1.49bn and the third highest of the pandemic era.
Internationally James Cameron's action fantasy sequel is closing in on Maverick's $770m gross and will become the highest release of 2022 when it does so, as well as the second highest international Hollywood release of the pandemic era.
China stands at the top of the international markets on $108.2m, a result that has been impacted by cinema closures in the country amid Covid surges. Next is France on $68.2m, followed by South Korea on $57.4m, Germany on $46.5m, and India on $40.7m.
The UK has generated $37.2m, Mexico $29.5m, Australia $25.2m, Italy $23.8m, Spain $20.3m, Brazil $19m, and Indonesia $12.9m.