Japan's Close-Knit wins audience award.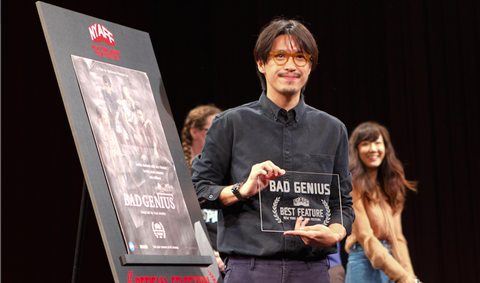 Thai high school thriller Bad Genius starring the Screen International Rising Star Asia Award winner Chutimon 'Aokbab' Chuengcharoensukying was named best feature as the 16th New York Asian Film Festival (NYAFF) came to a close.
Director Nattawut "Baz" Poonpiriya attended the awards ceremony on July 15. His film received its international premiere and opened the 17-day festival on June 30, when Chuengcharoensukying collected her award on stage at the Walter Reade Theater. NYAFF concluded on July 16 with the US premiere of The Villainess.
Bad Genius was among seven features nominated in the new main competition, which was restricted to films by first- and second-time directors. The inaugural three-person jury comprised actress Jennifer Kim, VOD acquisitions executive George Schmaltz, and festival super fan Kristina Winters.
The competition's special mention award went to Yoshiyuki Kishi's A Double Life from Japan, and an honourable mention for most promising director went to Le Binh Giang for Vietnam's Kfc.
The four other films competing in the main competition were Mikhail Red's Birdshot from the Philippines, Chen Mei-juin's The Gangster's Daughter from Taiwan, Cho Hyun-hoon's Jane from South Korea, and Andrew Wong Kwok-kuen's With Prisoners from Hong Kong.
NYAFF executive director Samuel Jamier said: "The seven films represent the breadth of our line-up. Each title explores pressing ethical issues with protagonists who push back against a staid or corrupt status quo. We hope that the films' ambition, confidence and bravura can inspire other filmmakers and festival programmers."

Naoko Ogigami's transgender drama Close-Knit from Japan won the audience award. Second- and third places went to Shinobu Yaguchi's post-apocalyptic comedy Survival Family from Japan and Bad Genius.

Jamier, deputy director Stephen Cremin, and programmers Claire Marty and David Wilentz curated the festival selection.