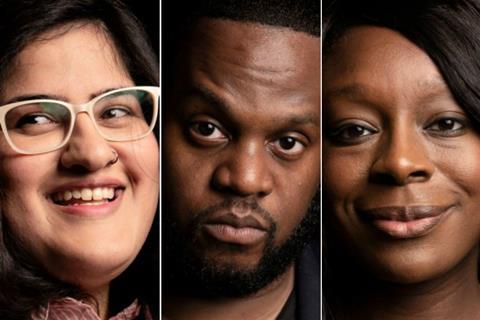 The British Academy of Film and Television Arts (Bafta) has named 18 UK writers to receive support through its Elevate campaign.
Participants include Rachel De-Lahay, co-writer of Channel 4 series Kiri, who is writing an episode of The Eddy for Netflix with Jack Thorne, to be directed by Damien Chazelle.
Also selected is Smita Bhide, whose previous work includes writing and directing The Blue Tower, winner of best UK feature at Raindance film festival in 2008.
The 18 names were chosen by a panel of industry experts from almost 200 applicants. They will receive networking opportunities, introductions, mentoring, tailored panel discussions, masterclasses and workshops over the next 12 months.
Key contributors to this year's scheme include producer Ivana MacKinnon (Slumdog Millionaire) and writer-director Sally El Hosaini (My Brother, The Devil).
This year's programme was open to writers facing career obstacles based on their background or circumstances that lead to under-representation. The areas of under-representation considered include disability, gender, race and people from lower socio-economic groups.
Created in February 2017 'to shape an inclusive and diverse workforce within the UK film and television industries', the Elevate programme helps individuals from under-represented groups to the next stage of their career. Last year's inaugural programme supported female directors.
Bafta Elevate 2018 participants
Bisha Ali
Clare McQuillan
Dominique Moloney
Emma Reeves
Faryal Velmi
Grace Ofori-Attah
Janice Okoh
Javone Prince
Karissa Hamilton-Bannis
Lisa Hammond & Rachael Spence
Rachel De-Lahay
Sarah Farinha
Sian Harries
Smita Bhide
Suhayla El-Bushra
Tahsin Guner
Tyrell Williams