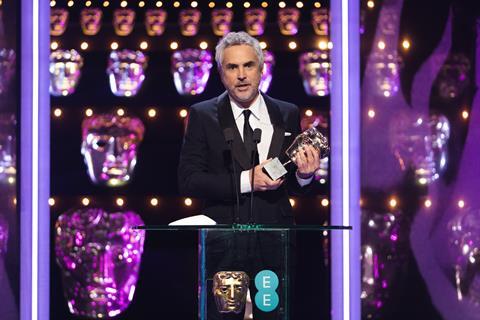 The UK's Bafta Film Awards has said it is not making any changes to the eligibility rules for its major categories despite pressure from both ends of the industry spectrum to do so following last year's awards.
In all categories other than best documentary, outstanding British debut, and film not in the English language, for which a new eligibility window has also been announced, qualifying films must be exhibited publicly to a paying audience on 10 commercial screens over an aggregate of seven days for a total of 70 screenings.
According to Emma Baehr, director of awards and membership for Bafta, after an extensive consultation process with producers, distributors, studios and streamers following last year's awards, led by Alison Thompson, deputy chair of the Bafta film committee, the "overwhelming consensus was that Bafta is a neutral body and our eligibility rules are fit for purpose. Therefore Bafta is not going to be making any changes to our eligibility rules."
However Baehr emphasised the film committee, which rules on the eligibility of each entrant, may take a hard line with films deemed to have been exhibited purely to qualify for the awards and will encourage entrants to share box office figures for those releases.
"This year the film committee will not tolerate a token release just to qualify and will be looking at this in detail," she said. "It is so important the British public get to see these film in a cinema prior to the ceremony. Therefore [the film committee] is really going to be looking at the film release patterns, making sure it is a wide geographical release. It is not beneficial to anyone for [a film] to be playing to empty cinemas. So there will be no four-walling allowed and we will be encouraging entrants to share box office figures."
Baehr said Bafta had yet to speak to Netflix which famously has a policy of not releasing box office or admissions figures for any of the films to which it gives a limited theatrical release. Although she admitted Bafta was unable to force Netflix (and others including Sky) to release its box office figures for this year, she indicated Bafta might be willing to do so going forward.
"We cannot enforce [a distributor to share box office figures] as we are eight months into the year and there have been lots of releases have happened already that are qualifying films," she explained. "We can't put a rule in to enforce this this far into the year. But it is something we are working towards.
"The committee are not going to tolerate token releases just for qualification. We will be looking at release patterns and looking at that in detail."
Exhibitor and producer protests
Both Vue and Cineworld announced in February and March respectively they would withdraw their support of Bafta unless the awards body reconsidered its eligibility criteria following ROMA's Bafta-qualifying run in the UK in late 2018. (The Netflix film was primarily released with exhibitor Curzon, playing in just two Curzon venues prior to its roll-out in the exhibitor's 13 cinemas, day and date with its release on the Netflix platform. In total, the film played at 20 venues across the UK and Ireland including some engagements at independent cinemas.)
Vue said it would not be providing marketing and endorsement support for the awards themselves, including buying seats at the ceremony, unless the rules changed, while Cineworld withdrew its screening pass for Bafta voters in protest.
"[Vue and Cineworld] were very much part of the consultation," said Baehr. "We have to take a balanced view here. On the other side of the debate we need to make sure there is no negative impact on the smaller independent releases, the distributors, independent British films. After the conversation across the industry, we are confident the current eligibility rules demonstrate commitment to promoting a theatrical experience while allowing smaller independent films the right threshold. If we were to change the threshold it might have a negative impact on that."
In response, Tim Richards, CEO of Vue, said: "We are proud to have acted as a catalyst for discussions on industry practices and maintaining high standards. We had several very constructive meetings with Baftaand are pleased to see that Bafta have confirmed that the eligibility criteria for an award will include a wide geographical theatrical release, sharing of box office figures and that "the British public get to see these film(s) in a cinema". We very much look forward to continuing our relationship and working with BAFTA for the 2020 award season.
He confirmed Vue is not withdrawing its marketing support for 2020.
Cineworld did not respond to Screen's request for comment.
"I can't speak to how Vue and Cineworld will react," said Baehr. "We will definitely have a conversation and a dialogue with them. We represent the whole film industry. We hope to work collaboratively with the exhibitors and we will continue to support the theatrical experience. But as I said we need to strike that balance.
"We looked at the rules in 2016 and we've looked at them again and we are confident they are fit for purpose."
At the other end of the industry spectrum, UK independent producers have previously expressed their frustration at the high theatrical screening threshold required to qualify modestly-budgeted titles for the best British film category in a challenging UK independent distribution market.
New voting window
Bafta announced round one of voting will open on December 12 and close on December 30, just one day shorter than last year. The nominations will be unveiled on January 7, 2020 and round two of voting will close on January 29, 2020. The ceremony will take place on February 2, 2020 at the Royal Albert Hall.
This story was updated at 16.40 on August 7 to add the comment from Vue Cinemas.