Thai production house GDH 559 is launching its inaugural slate with Banjong Pisanthanakun's anticipated romance.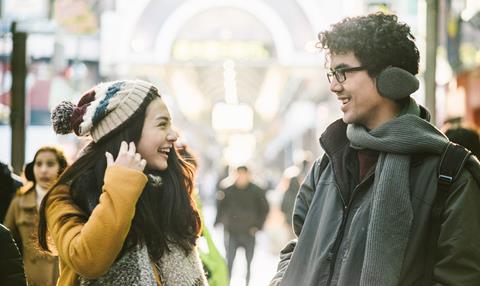 Banjong Pisanthanakun's One Day is set to open on Sept 1 as the first title from the debut slate of new Thai production house GDH 559, following the breakup of GMM Tai Hub (GTH) last year.
The highly-anticipated romance film reunites Banjong with his leading man and co-screenwriter Chantavit "Ter" Dhanasevi (Hello Stranger).
The story follows Ter's character who risks everything to be with his dream girl for just one day by pretending to be her boyfriend after she suffers temporary memory loss.
TV actress Nittha "Mew" Jirayungyurn makes her big screen debut in the film, which was mainly shot on location in Hokkaido, Japan.
Another upcoming GDH title is New Year's Gift, which is scheduled for release on Dec 1. The feel-good romantic drama is a three-part omnibus directed by Jira Maligool (The Tin Mine), Nithiwat Tharatorn (The Teacher's Diary) and Chayanop Boonprakob (SuckSeed) along with Kriangkrai Wachirathamporn (Hormones The Series 2 & 3).
GDH 559 was incorporated earlier in January as a joint venture between GMM Grammy and Hub Ho Hin, without Visute Poolvoralaks' Tai Entertainment. The three latter companies had been joint venture partners at GTH since 2004 before it was dissolved last year due to a shareholders dispute.
GDH 559's executive management team, almost unchanged from GTH's, consists of president Boosaba Dao-rueng (also group CEO of GMM Grammy), CEO Jina Osothsilp (former co-CEO at GTH), head of producers Jira Maligool (also co-founder of Hub Ho Hin), senior director of international business affairs Yongyoot Thongkongtoon and director of production and post production Chenchonnee Soonthornsaratul.
For more than a decade, GTH has undoubtedly established itself as a prominent sales and production powerhouse through its many horrors and thrillers as well as feel-good romances and comedies, which not only were local box office successes but also sold well internationally.
Some of its best known horrors are Shutter, which received a Hollywood remake, Alone, 4BIA and more recently Pee Mak, Thailand's top grossing film ever with 1 billion baht, ($29m).
Romantic comedy Heart Attack, one of GTH's last titles, won critical acclaim and accolades at the Thai Film Director Awards, Bangkok Critics Assembly Awards and Thailand National Film Association Awards (also known as Supannahong Awards).