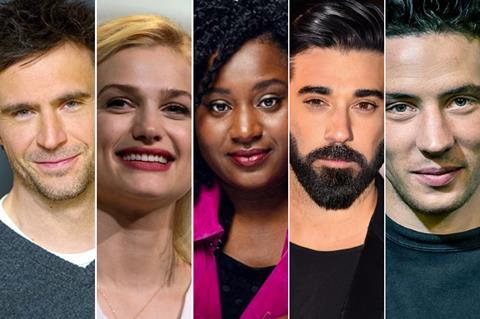 Production is underway in York on Julia Jackman's debut feature Bonus Track, a Sky-backed film for which Bankside Films has acquired world sales rights.
Jack Davenport, Alison Sudol, Susan Wokoma, Ray Panthaki and Josh O'Connor are on the cast, alongside newcomers Joe Anders and Samuel Small in the lead roles.
It is based on an original story by O'Connor and Michael Gilbert, with a debut screenplay from Gilbert; O'Connor is also taking on his first production role as an executive producer on the film.
Set in 2006, the film follows a 16-year-old who believes he is a future star musician, even when no-one else in his small town does. The arrival of the son of a famous musical duo who helps him rehearse for a talent show leads both boys to learn from each other and grow closer.
The film is produced by Helen Simmons and Stephanie Aspin for the UK's Erebus Pictures, in association with Lunapark Pictures and Fortune Films. Campbell Beaton is also producing, with Savannah Power co-producing for Erebus.
Sky is financing the film and has pre-bought UK and Germany rights, with further finance from Screen Yorkshire, Bankside and Quickfire.
Executive producers are Caroline Cooper Charles for Screen Yorkshire, Jan Pace for Quickfire, Laura Grange and Julia Stuart for Sky, Stephen Kelliher and Sophie Green for Bankside, Safitri Widagdo, James Riley and Pietro Greppi for LunaPark, Gilbert, Martha Kinn and Michael Smith.
Nina Wadia, Ellie Kendrick and Josh Cowdery also appear in the film, with Claudia Blunt handling casting and Jonas Mortensen shooting the film.
Noughties nostalgia
"Bonus Track has been a passion project for us from the very beginning of our film careers, and it's been a wonderful experience working with Michael, Josh and Julia," said Simmons and Aspin. "We are so excited to see Julia's vision brought to life, and are thrilled with the incredible cast joining us in Yorkshire. This is a film full of fun, heart, and noughties nostalgia, and we can't wait for everyone to see it."
Kelliher described the film as "a joyous celebration of queer first love, told with so much heart, humanity and music," and that it "has such resonance in the world today."
It is a debut feature for Jackman, who recently directed BBC comedy pilot Amicable, and is developing an adaptation of Isabel Greenberg's graphic novel The One Hundred Nights Of Hero, also with Erebus.
O'Connor (2016) and Simmons (2018) were both previously named Screen UK & Ireland Stars of Tomorrow. It is a third feature for Erebus, after Neil Maskell's Klokkenluider, shot in early 2021; and 2022 Screen Star Luna Carmoon's Hoard, filmed in May this year.