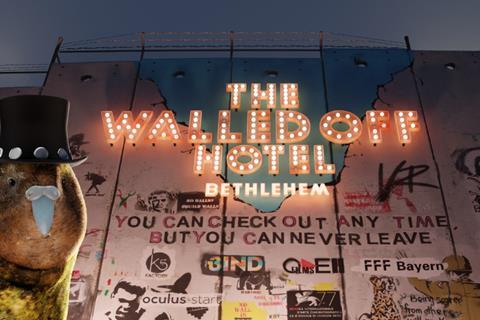 Saudi Arabia's Red Sea Fund has backed its first virtual reality project – inspired by Banksy's Walled Off Hotel – signalling the country's growing ambitions in VR.
The Walled Off Hotel VR Project received an undisclosed amount from the fund, which was established in 2021 and has a pot of $14m to back more than 100 directors of fiction, documentary and animation.
The project is a Germany-Palestine co-production, which has previously been selected for Venice's Gap-Financing Market and received investment from Germany's FilmFernsehFonds (FFF) Bayern, German Games Fund and Creative Europe.
Directed by Palestinian artist Amer Shomali, it is produced by Odeh Films, K5 Faktory and Bind. The experience allows people to move virtually within the hotel in Bethlehem, which overlooks the wall separating Israel and Palestine in the occupied West Bank. The hotel and adjoining museum was opened in 2017 by UK street artist Banksy.
However, the VR experience is an unofficial project as Banksy has not authorised the production.
Saudi does not yet have a notable presence in the VR space but is taking its first steps.
The industry side of this month's Red Sea International Film Festival in Jeddah had a VR Zone, showcasing 10 projects that include award-winning titles from Venice's prestigious VR strand.
Among these were five projects from Saudi's King Abdulaziz Centre for World Culture (Ithra), from the first year of Ithra's Creative Solutions programme, aimed at boosting KSA's creative economy by empowering digital content creation in immersive technologies such as virtual reality, augmented reality, mixed reality, immersive audio, haptics, and more.
The projects included The Anticipation Of Rain, Wamdah, Alqatt XR, Jawaab and History Of Science.