Universal's Fast & Furious 8 remains top in the UK; Their Finest opens fourth.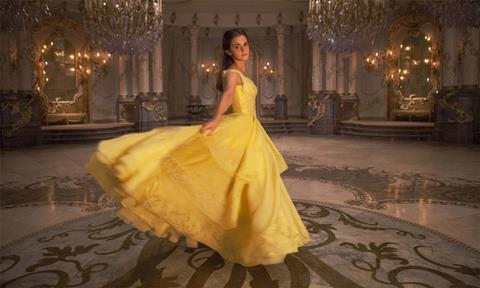 UK TOP FIVE
| Ranking | Film/Distributor | Weekend gross | Running total |
| --- | --- | --- | --- |
| 1 | Fast & Furious 8 (Universal) | $4.6m (£3.59m) | $29.5m (£23m) |
| 2 | The Boss Baby (Fox) | $2.65m (£2.06m) | $28.6m (£22.26m) |
| 3 | Beauty And The Beast (Disney) | $1.7m (£1.3m) | $88.2m (£68.8m) |
| 4 | Their Finest (Lionsgate) | $1.1m (£850,000) | $1.1m (£850,000) |
| 5 | Smurfs: The Lost Village (Sony) | $421,000 (£328,000) | $5.8m (£4.5m) |
(Note - Dollar conversions are based on today's rates)
DISNEY
Beauty And The Beast has surpassed Mamma Mia to become the biggest musical of all time at the UK box office.
Disney's live action remake fell 50% as it waltzed to a $1.7m (£1.3m) sixth weekend for a dazzling $88.2m (£68.8m) to date, making it the eighth highest grossing film ever.
UNIVERSAL
Despite a fall of 58% (excluding previews), Fast & Furious 8 remained at the top of the UK box office.
Universal's latest instalment in the hugely popular series raced to an extra $4.6m (£3.59m) for $29.5m (£23m) after 12 days in play, already making it the third biggest outing of the franchise to date.
It will overtake Fast & Furious 6's $32.4m (£25.3m), but won't catch Fast & Furious 7's final UK result of $49.5m (£38.6m), especially with Guardians Of The Galaxy Vol 2's arrival this Friday (April 28).
Also for Universal, Get Out edged closer to the £10m mark as a $337,000 (£263,100) sixth weekend for $12.2m (£9.54m), while The Zookeeper's Wife was one of several new openers to struggle with a $130,000 (£101,407) debut from its 218 sites.
FOX
The Boss Baby remained in second after dropping 43% with a non-final $2.65m (£2.06m) third weekend.
Fox's latest DreamWorks Animation outing is now up to a strong $28.6m (£22.26m) and should overtake Trolls ($31.7m/£24.74m) by the end of its run, with another Bank Holiday to take advantage of next week.
Also for Fox, Logan stands at an excellent $30.5m (£23.8m), while Rules Don't Apply posted a weak non-final UK bow of $60,000 (£47,130) from its 244 sites, averaging only $248 (£193).
LIONSGATE
The week's highest new entry came in the form of Their Finest as it charted fourth.
Lionsgate's wartime drama posted a promising $1.1m (£850,000) debut from its 456 sites, marking a site average of $2,391 (£1,864) over a weekend where new releases failed to make much of an impact.
Their Finest's debut marks director Lone Scherfig's second biggest UK bow, behind One Day which was bolstered by the fact it was based on a known property.
Also for Lionsgate, Power Rangers has amassed $6.2m (£4.81m).
SONY
Posting the best drop of the weekend, Sony's Smurfs: The Lost Village fell only 26% as it journeyed to a $421,000 (£328,000) fourth weekend for $5.8m (£4.5m) to date.
WARNER BROS
With a distinctly unmemorable debut, Warner Bros' Unforgettable could only manage to gross $345,000 (£269,000) from its 365 sites, marking a soft site average of $945 (£737).
Also for Warner Bros, Going In Style pocketed $337,000 (£263,000) for $3.1m (£2.45m) after three weeks in play.
EONE
In its third week, eOne's Peppa Pig: My First Cinema Experience took a further $268,000 (£208,970) for $3.8m (£3.02m) to date.
PARAMOUNT
Ghost In The Shell added a non-final $182,000 (£142,000) for $7.1m (£5.53m) after four weeks in play through Paramount.
CURZON ARTIFICIAL EYE
The Handmaiden fell 50% (excluding previews) with a $177,000 (£138,182) second weekend.
Curzon Artificial Eye's erotic thriller is now up to an excellent $1.05m (£817,153) and will hope to become the first non-Bollywood foreign language film to hit £1m since Julieta last year.
STUDIOCANAL
Falling 58% in its second weekend, Studiocanal's The Sense Of An Ending took $176,000 (£137,542) for $949,000 (£739,826) so far and will hope to cross the £1m mark by the end of its run.
VERTIGO RELEASING
Ahead of Guardians 2, Vertigo Releasing's James Gunn-scripted horror The Belko Experiment fought to a $167,000 (£129,942) UK debut from its 132 sites.
ICON FILM DISTRIBUTION
From its release at 35 Ireland sites, Icon Film Distribution's Handsome Devil recorded a UK debut of $80,000 (£62,244), including previews, and expands nationwide from this Friday (April 28).
Also for Icon Film Distribution, Finding Fatimah opened with $29,000 (£22,838) from its 42 sites.
ARROW FILMS
From its 18 sites through Arrow Films, Clash grossed $19,000 (£14,856) on its UK opening, including previews.
THUNDERBIRD RELEASING
A Quiet Passion has taken $294,000 (£229,626) after three weeks in play through Thunderbird Releasing, formerly Soda Pictures.
Also for Thunderbird Releasing, The Transfiguration had a disappointing bow of $6,000 (£4,650) from its 14 sites.
MUNRO FILMS
Including previews, Munro Films' Bunch Of Kunst posted a non-final UK debut of $13,000 (£10,783) from its 14 sites, all playing partial shows over the weekend.
UPCOMING RELEASES
This week sees saturation releases for Disney's Guardians Of The Galaxy Vol 2 and eOne's The Promise.
Altitude's Lady Macbeth and Universal's Lowriders both receive a wide release, while Curzon Artificial Eye's Heal The Living is among the films receiving a limited release.