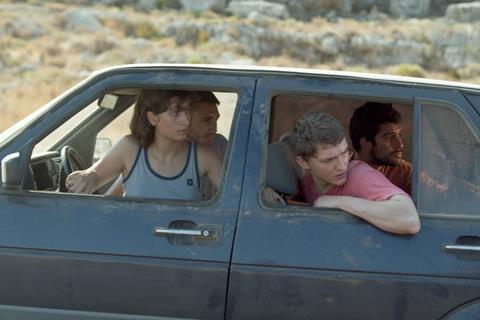 The 18-strong Competition line-up for the 73rd Berlin International Film Festival has been announced by festival heads Carlo Chatrian and Mariette Rissenbeek.
Scroll down for full list
New films from Christian Petzold, Margarethe Von Trotte, Emily Atef and Lila Avilés are among those selected. Some 15 of the 18 titles are world premieres, with international premieres for Celine Song's Past Lives after debuting to strong reviews at Sundance; Makoto Shinkai's animation Suzume, released in Japan last November; and Australia's The Survival Of Kindness by Rolf de Heer, first seen at Adelaide Film Festival.
Six of the films are directed by women, three are debut features and 11 filmmakers have had their works selected by the Berlinale previously (eight in Competition). All will compete for Berlin's Golden and Silver Bear awards.
During a live-streamed announcement, Chatrian and Rissenbeek also revealed the films for the Encounters section as well as additional Berlinale Special title Superpower, by Sean Penn and Aaron Kaufman, a documentary that saw US actor and filmmaker Penn travel to Ukraine to profile president Volodymr Zelensky, only to find himself in Kyiv when the ongoing war with Russia began.
The Berlinale's co-directors wore a blue-and-yellow version of the festival's pin badge during the announcement, marking the festival's solidarity with the people of Ukraine. Watch the press conference here.
Among the Competition titles are Ingeborg Bachmann – Journey into the Desert, the first film by acclaimed German filmmaker Margarethe Von Trotte to play in Berlin's competitive section since Heller Wahn in 1983. It stars Vicky Krieps as Austrian poet and author Bachmann.
Jesse Eisenberg, Adrien Brody and Odessa Young star in Manodrome, a thriller in which Eisenberg plays an expecting father who joins a masculinity cult. The US-UK feature marks the English-language debut of South African director John Trengove, whose previous film The Wound opened Berlin's Panorama strand in 2017.
From China comes The Shadowless Tower from director Zhang Lu, who was last in Competition at Berlin in 2007 with Desert Dream (Hyazgar). His latest in a Beijing-set melodrama that intertwines a father-and-son tale with a romantic love story.
Also back in Competition is French-Iranian director Atef with teenage love story Someday We'll Tell Each Other Everything, five years after her drama 3 Days In Quiberon played in Berlin; and veteran French filmmaker Philippe Garrel with family drama The Plough, starring his son and daughter Louis Garrel and Esther Garrel. He was last in Competition in 2020 with The Salt Of Tears.
Berlinale regular Petzold, who has previously been up for the Golden Bear five times with titles such as Undine and Barbara, returns with Afire following a group of friends by the Baltic Sea where emotions run high as the forest around them catches fire.
Germany's Angela Schanelec is back in Competition with drama Music, after winning the best director Silver Bear in 2019 with I Was at Home, But…
As previously announced, the festival will open with the world premiere of Rebecca Miller's romantic comedy She Came To Me starring Peter Dinklage and Anne Hathaway.
The 2023 Berlinale will run in-person from February 16-23, while the concurrent European Film Market will take place in-person from February 16-22 (after two years online).
Titles have previously been announced for the Panorama, Forum, Classics, Generation and Series strands.
Competition
20,000 Species Of Bees (Sp), dir. Estibaliz Urresola Solaguren
Afire (Ger), dir. Christian Petzold
Bad Living (Port-Fr), dir. Joao Canijo
BlackBerry (Can), dir. Matt Johnson
Disco Boy (Fr-It-Pol-Bel), dir. Giacomo Abbruzzese
Ingeborg Bachmann – Journey Into The Desert (Ger-Switz-Austria-Lux), dir. Margarethe Von Trotta
Limbo (Australia), dir. Ivan Sen
Manodrome (UK), dir. John Trengove
Music (Ger-Fr-Ser), dir. Angela Schanelec
On The Adamant (Fr-Jap), dir. Nicolas Philibert
Past Lives (US), dir. Celine Song (Sundance premiere)
Someday We'll Tell Each Other Everything (Ger), dir. Emily Atef
Suzume (Jap), dir. Makoto Shinkai
Till The End Of The Night (Ger), dir. Christoph Hochhäusler
The Plough (Fr-Switz), dir. Philippe Garrel
The Shadowless Tower (China), dir. Zhang Lu
The Survival Of Kindness (Australia), dir. Rolf de Heer
Totem (Mex-Den-Fr), dir. Lila Avilés
Berlinale Special Gala
Superpower, dirs. Sean Penn, Aaron Kaufman
Encounters
Absence (China), dir. Wu Lang
Eastern Front (Latvia-Czech-Ukr-US), dir. Vitaly Mansky, Yevhen Titarenko
Family Time (Fin-Swe), dir. Tia Kuovo
Here (Bel), dir. Bas Devos
In The Blind Spot (Ger), dir. Ayse Polat
In Water (S Kor), dir. Hong Sangsoo
Living Bad (Port-Fr), dir. Joao Canijo
My Worst Enemy (Fr-Switz), dir. Mehran Tamadon
Orlando, My Political Biography (Fr), dir. Paul B. Preciado
Samsara (Sp), dir. Lois Patiño
The Adults (US), dir. Dustin Guy Defa
The Cage Is Looking For A Bird (Fr-Rus), dir. Malika Musaeva
The Echo (Mex-Ger), dir. Tatiana Huezo
The Klezmer Project (Arg-Austria), dirs. Leandro Koch, Paloma Schachmann
The Walls Of Bergamo (It), dir. Stefano Savona
White Plastic Sky (Hun-Slovakia), dir. Tibor Bánóczki, Sarolta Szabó