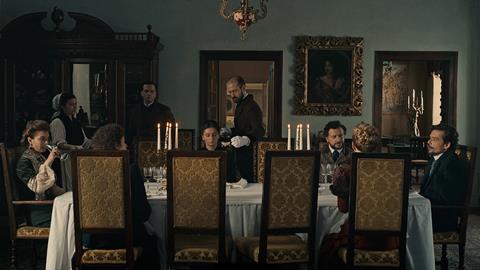 The Berlin International Film Festival (Feb 20-Mar 1) has unveiled the 15 features that will comprise its first ever Encounters competitive strand.
The new section has been introduced to support new voices in cinema, running alongside the long-established competition and Berlinale Shorts, which award the Golden and Silver Bears.
A three-member jury, which has yet to be announced, will choose the winners of best film, best director and a special jury award.
The section will open with Cristi Puiu's Malmkrog, a 200-minute drama in which an elite group of individuals converge on a country estate and discuss the Antichrist, progress and morality. The Romanian director won Berlin's Golden Bear in 2004 with short Cigarettes and Coffee, and Cannes' Un Certain Regard award in 2005 with The Death of Mr. Lazarescu.
Every feature in the strand will receive its world premiere with the exception of Josephine Decker's Shirley, in which Elisabeth Moss plays American horror writer Shirley Jackson. It will receive its international premiere in Berlin after playing in the US Dramatic Competition at Sundance later this month.
Encounters full list of titles
Funny Face (US) dir. Tim Sutton
Gunda (Nor-US) Victor Kossakovsky (documentary)
Isabella (Arg) Matías Piñeiro
The Shepherdess And The Seven Songs (Ind) Pushpendra Singh
Los Conductos (Fra-Col-Bra) Camilo Restrepo
The Last City (Ger) Heinz Emigholz
Malmkrog (Rom-Ser-Switz-Swe-Bos-Mac) Cristi Puiu
The Metamorphosis Of Birds (Por) Catarina Vasconcelos (documentary)
Naked Animals (Ger) Melanie Waelde
Orphea (Ger) Alexander Kluge, Khavn
Shirley (US) Josephine Decker
Servants (Slo-Rom-Cze Rep-Ire) Ivan Ostrochovský
The Trouble With Being Born (Aust-Ger) Sandra Wollner
The Works And Days (Of Tayoko Shiojiri In The Shiotani Basin) (US-Swe-Jap-HK-UK) C.W. Winter, Anders Edström
Kill It And Leave This Town (Pol) Mariusz Wilczyński