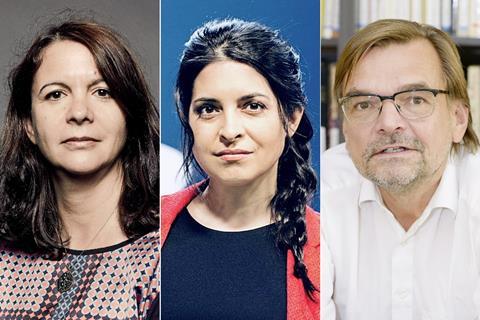 Nine new jurors have been announced for next month's online Berlin International Film Festival (March 1-5), with three each for the Encounters, Generation and Shorts sections.
The new jurors are in addition to the six-person International Jury that was revealed at the beginning of February, composed of six former Golden Bear winning directors.
The Encounters jury consists of French programmer Florence Almozini, who works as senior programmer at large for New York's Film at Lincoln Center venue; Cecilia Barrionuevo, artistic director of Argentina's Mar del Plata International Film Festival; and German editor and publisher Diedrich Diederichsen.
They will award prizes for best film, best director and a special jury award in the Encounters section.
Jurors for the two Generation prizes (Kplus and 14plus) are two filmmakers – Mees Peijnenburg, whose feature Paradise Drifters played in Generation 14plus last year, and Germany's Melanie Waelde; as well as German actress Jella Haase, whose credits include 2020's Berlin Alexanderplatz.
The three Shorts jurors are actor Sebastian Urzendowsky, cinematographer Christine A. Maier and artist Basim Magdy.
Awards for Shorts and Generation will be announced online on March 4, and for Encounters and Competition on the 5.
The Berlinale is aiming to hold an awards ceremony with an audience present during its summer event from June 9-20.