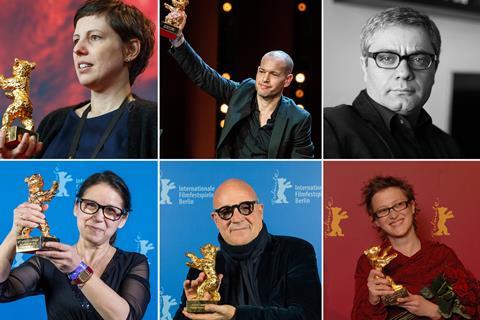 The international jury of the 71st Berlinale will comprise six former Golden Bear winners: Mohammad Rasoulof, Nadav Lapid, Adina Pintilie, Ildikó Enyedi, Gianfranco Rosi and Jasmila Žbanić.
The long-awaited selection of films that will make up this year's online-only edition will be announced next week from February 8-11.
While the selection would usually be announced by the end of January, the unusual nature of this edition will see the Retrospective and Generation named on February 8; the Berlinale Shorts, Forum and Forum Expanded revealed on February 9; the Encounters, Panorama and Perspektive Deutsches Kino unveiled on February 10; and the Competition and Berlinale Special titles announced on February 11.
Titles in the Berlinales Series strand were revealed last week.
As previously announced, this year's Berlin International Film Festival will take place in two stages, beginning with the European Film Market (EFM) from March 1 to 5. This will also include a film selection, made up of the festival's strands, which will be made available to watch by industry professionals and accredited press.
A second event, titled Summer Special, is scheduled to run June 9-20 and set to include physical screenings of the selection and their filmmakers, at 10 venues in Berlin. An opening event and awards ceremony is also being planned.
The decision to select Golden Bear winners as its international jury is an unprecedented move in an extraordinary year, with the festival being forced to abandon its physical event due to the pandemic.
Iran's Rasoulof was at the Berlinale last year, where he won the top prize for his film There Is No Evil. Israel's Lapid won the Golden Bear in 2019 for Synonyms; Romania's Pintilie won in 2018 with Touch Me Not; Hungary's Enyedi won in 2017 with On Body And Soul; and Rosi won in 2016 with Fire At Sea.
It was further back, in 2006, that Bosnia and Herzegovina's Žbanić won the Golden Bear with Grbavica. Her latest feature, Quo Vadis, Aida?, is Bosnia and Herzegovina's submission for the best international feature film category at the Oscars.
All will view the Competition titles on the big screen in Berlin, although the logistics of how this will be achieved has yet to be revealed.
International juries will decide on the prizes from the Competition, Berlinale Shorts, Encounters and Generation, and announce the award-winning films during the industry event, with the prizes set to be awarded at the Summer Special event in June.
The Berlinale does not plan to appoint a jury president this year.
The festival's artistic director, Carlo Chatrian, said the jury members "enthusiastically accepted" their invitation to take part in this "unique edition".
"They express not only different ways of making uncompromising films and creating bold stories but also they represent a part of the history of the Berlinale," he added. "In this moment in time, it is meaningful and a great sign of hope that the Golden Bear winners will be in Berlin watching films in a theatre and finding a way to support their colleagues."
The announcement on February 11 will include a video presentation at 11am (CET). Berlinale executive director Mariette Rissenbeek will present this year's festival format once again before Chatrian presents the films in the Competition and Berlinale Special strands.