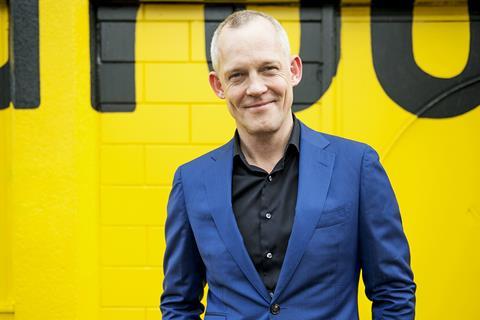 Bero Beyer, director of the International Film Festival Rotterdam, is to leave the festival to succeed Doreen Boonekamp as CEO of the Netherlands Film Fund in March 2020.
The role is the most important public film post in the Netherlands.
Beyer will join the Fund on March 1, 2020 after overseeing the 49th edition of IFFR which will run from January 22-February 2 next year.
A successful independent producer before taking the helm at IFFR, Beyer has been involved in such projects as Hany Abu-Assad's Oscar-nominated Paradise Now and Annemarie Jacir's Salt Of This Sea.
As a producer, Beyer said he will relish being back in a creative role.
"Going back to my roots, I guess, of being involved in the development and creation of things is a big factor for me personally," said Beyer of what prompted his move to the Fund. "And to be involved in shaping how the Dutch cinema landscape can evolve."
During his five-year stint at Rotterdam, Beyer has introduced some radical changes to the festival. He divided all films into four umbrella sections to ease navigation of the programme and streamlined the Tiger Competition to a more select number of films - eight features, each one championed during one festival day.
He also oversaw initiatives such as Planet IFFR, showcasing alternative visions of cinema, and IFFR Live, an international live cinema event involving dozens of cinemas around the world. He also programmed notable premieres such as Sacha Polak's Dirty God this year.
Plans for Beyer's final edition at the helm are yet to be confirmed. However, the launch of the Young Curators programme, initiated by Inge de Leeuw, selected as a Screen Future Leader 2019, is one new initiative that has already been warmly received.
Under Beyer, festival admissions in 2018 and 2019 have been at over 325,000 - a sizeable increase on the 302,000 admissions achieved in 2015.
Boonekamp's legacy
During her decade at the Netherlands Film Fund, Doreen Boonekamp is credited with stabilising the sector in the wake of the 2008 economic crisis, strengthening Dutch ties to international partners and providing local producers with a massive boost through the successful launch of the Film Production Incentive in 2014.
She also oversaw the setting up of the Netherlands Film Commission under Bas van der Ree, which has helped to attract high-profile projects to shoot in the country including Dunkirk and The Goldfinch.
Boonekamp has also boosted film education, provided robust support to the post-production sector and seen Dutch films including Borgman, Brimstone and Dirty God feted at major international festivals.
Beyer paid tribute to Boonekamp, highlighting the "incredibly healthy situation Doreen has been able to get moving in the Netherlands in terms of international reach, in terms of aspiration, in terms of cash rebate structure and in terms of maintaining a balance between selective and automatic [funding]".
The Fund has €19.3m to invest through the Film Production Incentive in 2019 and a further €3.7m for selective schemes aimed at minority co-productions.
Peter Schrurs, former general director of public broadcaster VPRO, will be appointed interim CEO of the Netherlands Film Fund from October 3, 2019, after Boonekamp stands down and before Beyer starts at the Fund on March 1, 2020.
Beyer will oversee the 2020 edition of IFFR, which will be his fifth and final edition, to ensure it continues to "expand its reach and quality" and is in as strong as possible a state in advance of its 50th edition in 2021.
He said he hoped to bring the same "positive energy" to the Fund he hoped he had brought to IFFR under his watch. Although it is too early for Beyer to talk in detail about his plans for the Fund, he is clearly looking to focus on talent.
"It is very similar to what we have been trying to do in Rotterdam which is to create a place where you can celebrate cinema first and let that be the gateway to audience resonance, to being celebrated internationally, to having sales and to getting bums on seats," he told Screen.
"If you look at what we've been able to do in Rotterdam, it is to create exactly that combination, showing adventurous, inspiring, sometimes daring films; putting the quality of cinema first - and then you get a full house. That is the whole trick."
Beyer will be serving an initial five-year term at the Fund with the possibility of one renewal.