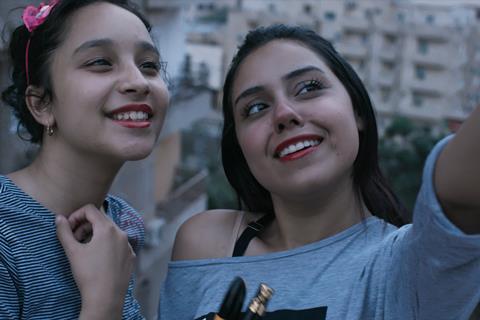 Brussels-based Best Friend Forever has acquired world sales rights to Ayten Amin's second feature Souad, a Cannes 2020 selection.
The Alexandria-set drama revolves follows two teenage sisters growing up within a conservative family, the older of whom escapes into a secret life via the virtual world of social networks. When real-life catches up with her, tragedy strikes and her younger sister embarks on a journey looking for answers.
The cast features non-professional newcomers Bassant Ahmed, Basmala El Ghaiesh and Hussein Ghanem.
Amin's debut feature Villa 69, starring Egyptian actor Khaled Abol Naga as a terminally-ill architect whose routine is disrupted by the arrival of his sister and nephew, won the special jury award at Abu Dhabi Film Festival in 2013.
Amin made her international debut as one of the directors on the portmanteau feature Tahrir 2011: The Good, The Bad, And The Politician, which premiered in Venice.
At the Cannes Official Selection announcement in June, delegate general Thierry Frémaux praised the film for the rare insight it gave into the lives of young girls in contemporary Egypt and their relationships with social media.
BFF co-founding chiefs Martin Gondre and Charles Bin also commented: "It subtly deals with the social and political aspects of a conservative society. We discover an unexpected whole new world, with a heart-breaking twist."
The feature is produced by Sameh Awad at New York-based Vivid Reels with co-producers including Wim Wenders, under the banner of Road Movies, Tunisia's Dora Bouchoucha at Nomadis Images as well as Egyptian partners Mohamed Hefzy for Cairo-based Film Clinic and Mark Lotfy at Alexandria-based Fig Leaf Studios.
Film Clinic Indie Distribution handles the distribution in the Middle East, while CAA Media Finance represents North America.
The film is set to premiere at a festival in the first semester of 2021 after its final stages of post-production in Lebanon were delayed following the explosion in Beirut in early August.
Best Friend Forever's current slate also includes Venice Giornate Degli Autori opener Honey Cigar and closing picture Saint-Narcisse as well as Berlinale best first feature winner Los Conductos by Camilo Restrepo , which playings in San Sebastian Zabaltegi Competition.