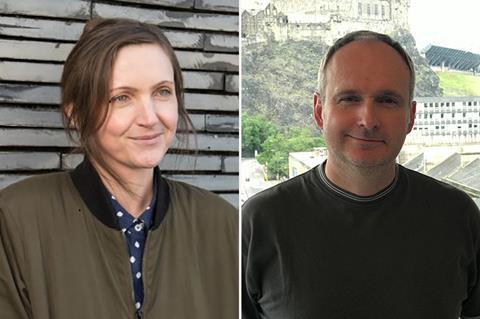 Producer Roxy Mckenna and Catalyst Global Media's Keith Potter have joined BFI NETWORK as regional talent executives for the North of England and Scotland.
Mckenna joins Film Hub North where she will work alongside Amy O'Hara, based out of Newcastle's Tyneside Cinema.
Potter has been appointed talent development executive at Scottish Film Talent Network (SFTN), where he will be responsible for the first feature slate at SFTN, which is supported by Screen Scotland and BFI NETWORK.
Mckenna previously commissioned and executive produced over 30 short films and documentaries, including 14 Random Acts for broadcaster Channel 4. She has also worked as a freelance creative producer on cinema events and producing short films since 2016.
Potter joins from Catalyst Global Media in London, where he was an executive producer across film and television investments for its production division. Previously he has worked at Screen Ireland and as head of production and development at Ffilm Cymru Wales.
The duo will join fellow talent executives at a BFI NETWORK event at the Edinburgh Film Fetsival today (June 21).
The first six regional talent executives were hired last April, with Jess Loveland joining as head of BFI NETWORK at the start of this year.
BFI NETWORK is the British Film Institute's support resource for writers, directors and producers at the start of their careers.
The full team is: Jessica Loveland, Head of BFI NETWORK; Thomas Wightman, Film Hub South East; Alice Cabañas, Film Hub South West; Alexzandra Jackson, Film Hub Midlands; Josic Cadoret and Mathieu Ajan, Film Hub London; and Roxy Mckenna and Amy O'Hara, Film Hub North. Lead talent executives outside England are: Christine Morrow in Northern Ireland Screen, Alice Whittemore in Ffilm Cymru Wales, and Keith Potter in the Scottish Film Talent Network.