The BFI has named the six NETWORK talent executives who have been hired to help deliver its BFI2022 plan in the UK's regions.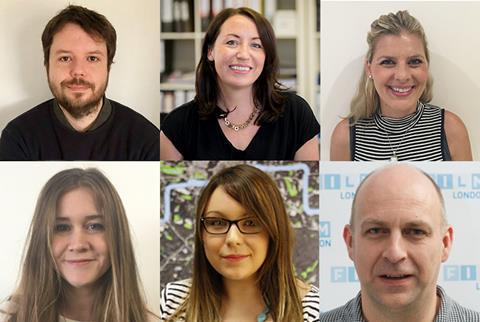 Joining the five English films hubs are Thomas Wightman for Film Hub South East (which spans from Chichester to Norwich and Canterbury), Alice Cabanas for Film Hub South West (Bristol to Southampton and Plymouth), Jessica Loveland and Alice Ramsey for Film Hub North ( Liverpool to Hull and Berwick-upon-Tweed), Alexzandra Jackson for Film Hub Midlands (Nottingham to Birmingham and Hereford) and Josic Cadoret for Film Hub London.
Wightman joins the BFI from the Institute of Contemporary Arts (ICA) where he managed the commissioning programme Stop Play Record; Cabanas previously worked as part of the British Council's Film Team where she was film programme manager; Loveland is from Dublin-based Blinder Films where she worked as a development executive; Ramsey previously worked at Creative England as a development and production executive; Jackson managed Leicester's Phoenix Cinema and Art Centre's learning and talent programme; Cadoret has managed the delivery of Film London's short film schemes London Calling and London Calling Plus.
The plan to hire six new executives was first revealed as part of the institute's five-year plan to support regional and grass-roots film-making BFI2022. Their remit will be to provide access to BFI National Lottery funding and training opportunities and to foster relationships with talent in the regions.
In an exclusive interview on the topic of reforms to the BFI Film Fund that were being implemented as part of BFI2022, Film Fund director Ben Roberts told Screen he saw the execs as "working like A&R scouts – a focus on outreach, discovery, and an opportunity to fund, encourage and engage new talent – helping new filmmakers to cut their demos".
The six hires join existing talent development executives in Northern Ireland Screen, FfilmCymru Wales and the Scottish Film Talent Network. They will work closely with BFI talent development manager Matimba Kabalika.
"We're really pleased to be extending the reach and accessibility of BFI NETWORK support through the appointment of these six talent executives in the regions. The range of expertise of the individuals involved, as well as the opportunities represented by them being embedded in leading film venues across the country is really exciting," commented Kabalika.
"Having dedicated talent spotters based in the regions, with experience of helping filmmakers and storytellers develop their skills, is a positive and necessary development, and being part of our already well established Hubs will enable us to foster networks of creatives, audiences and industry professionals to benefit our local talent," added Eleanor Thornley, manager of Film Hub Midlands.