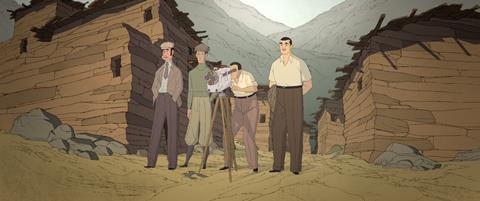 BFI Distribution has secured UK and Ireland rights to award-winning animation Buñuel In The Labyrinth Of The Turtles in a deal with Madrid-based sales company Latido Films.
As cinemas remain closed in the UK due to the Covid-19 lockdown, the film will launch on streaming platform BFI Player on July 9 and will be made available to other digital platforms as a transactional title.
When theatres do begin opening, BFI Distribution plan to make the film available for theatrical exhibition, including at London's BFI Southbank. The UK government has set July 4 as the provisional date when cinemas can reopen.
Directed by Salvador Simó and based on a graphic novel, the film uses suitably surreal imagery to explore how Luis Buñuel made his 1933 film Las Hurdes (Land Without Bread). Using traditional 2D animation, it blends the iconic filmmaker's journey with real footage from the 1933 short.
As well as directing animation, Simó has worked in previsualization as a layout artist since 2008 on blockbusters including Skyfall, The Jungle Book, Passengers and Pirates of the Caribbean: Salazar's Revenge.
Buñuel In The Labyrinth Of The Turtles received its world premiere at Los Angeles' Animation Is Film Festival in October 2018, where it won a special jury award. It was shortlisted to be Spain's best international feature Oscar entry but missed out to Pain And Glory. It won best animation at the European Film Awards in December, having previously picked up several festival awards including the jury prize at the Annecy International Animation Festival.
Simó wrote the screenplay with Eligio Montero. Producers are Manuel Cristóbal, José M Fdez de Veg and Bruno Felix, and it was produced by Sygnatia, The Glow, Submarine, Hampa Studio, Telemadrid and Canal Extremadura TV.