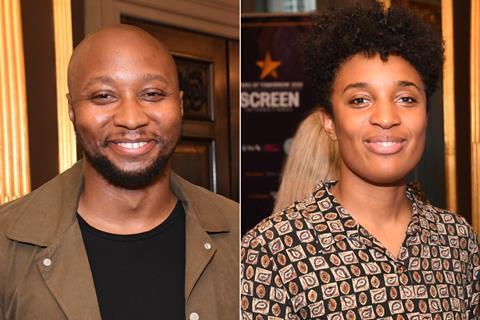 The second edition of the BFI London Film Festival (LFF)'s Work-in-Progress showcase has selected seven projects from emerging British talent, to present to an invited audience of international buyers and festival programmers at the event on October 9.
The in-person showcase will include extracts screened from each project, followed by a Q&A with the director and producer. Projects include cinema, television and immersive works; all are recently completed or in production or post-production.
The works include Dionne Edwards' debut feature Pretty Red Dress, backed by BBC Film and the BFI, which is currently in post-production. The film by Edwards, a Screen Star of Tomorrow in 2019, follows the relationships of three members of a South London family to the same red dress.
Also selected is My Name Is Leon, a TV film directed by Lynette Linton and written by The Last Tree director Shola Amoo. Based on Kit de Waal's 2016 novel of the same name and set against the backdrop of the 1980s race riots in Birmingham, the film centres on a 10-year-old mixed race boy's quest to reunite his family after he is taken into care and separated from his blonde, blue-eyed baby brother. It is currently in post-production.
"International Industry engagement with the LFF has been increasing over the last five years, and we were keen to use this moment to highlight some of the impressive emerging talent in the UK," said LFF director Tricia Tuttle. "It's vital that independent filmmakers and moving image creatives in the UK are connected to counterparts from across the globe, for co-investment and distribution, but also creative enrichment."
Clips of the projects will also screen online via a secure platform to a wider pool of invited industry professionals.
The showcase is the latest LFF industry section to return as an in-person event for this year, after the Buyers & Sellers event, and Network@LFF professional advancement programme.
Titles to emerge from last year's LFF Works-in-Progress include Marley Morrison's Sweetheart, recently released in the UK and Ireland through Peccadillo Pictures; Malachi Smyth's The Score, which was part of the Industry Selects strand at Toronto last month; and two SXSW 2021 titles, Stacey Gregg's Here Before and Lee Haven-Jones' The Feast.
BFI LFF Works-in-Progress 2021
Hong Kong Mixtape, dir/scr. San San F Young, prod. Nikki Parrott – documentary
Medusa Deluxe, dir/scr. Thomas Hardiman, prods. Mike Elliott, Louise Palmkvist Hansen, Lee Groombridge – narrative feature
Pretty Red Dress, dir/scr. Dionne Edwards, prod. Georgia Goggin – narrative feature
Consensus Gentium, dir/scr. Karen Palmer, prod. Tuyet Van Huynh – XR project
Mosaic, dirs. Eleanor Nawal, Layla Madanat, prod. Sarah Hamed – XR project
All Points North, dir. Glen Milner, prods. Ben Hilton, Glen Milner - documentary
My Name Is Leon, dir. Lynette Linton, scr. Shola Amoo, prod. Carol Harding - TV narrative feature