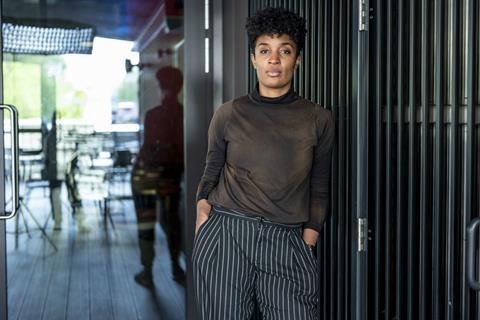 Dionne Edwards is developing her debut feature Pretty Red Dress with the BFI and BBC Films. Based on her own script, it focuses on a black family in south London, and what happens when they find their father wearing a dress. The project is the culmination of 10 years' hard work, according to Edwards, who started out as an agents' assistant at a boutique agency before being selected for Working Title Films' Action! internship.
"After that I realised all I wanted to do was direct and that was side-tracking me," says Edwards, who began making her own films alongside producer Georgia Goggin as part of their production company Teng Teng Films. "We made really terrible shorts and worked hard to make them better and better."
Edwards missed out on a place at the National Film and Television School (NFTS), so used a job at the Rio Cinema in east London to watch as many films as possible and as a rehearsal space. "It became my own little film school," she says. Her big break came with 2016 short We Love Moses, which screened at more than 50 festivals and picked up nine awards, including the jury prize at Dinard and short film of the year at the Critics' Circle Film Awards. Cine+, Canal+ and HBO all licensed it for broadcast.
"It was a big one for me," says Edwards, who was mentored on the project by The Miseducation Of Cameron Post director Desiree Akhavan as part of the BFI Flare LGBT Filmmakers' Mentorship scheme. "Because I wrote and directed, it has a lot of me in it. It's very personal."
Edwards also shadowed Reinaldo Marcus Green while directing second unit on Top Boy, the Ashley Walters series that Netflix revived this year after its two-season Channel 4 run from 2011-13. Her further TV credits include That Girl, a 30-minute drama in Channel 4's On The Edge series, and two films for the BBC's Soon Gone: A Windrush Chronicle.
Contact: Olivia Gray, Independent Talent