Overall admissions were up 9%, but production spend on UK domestic titles was down 7% in 2015.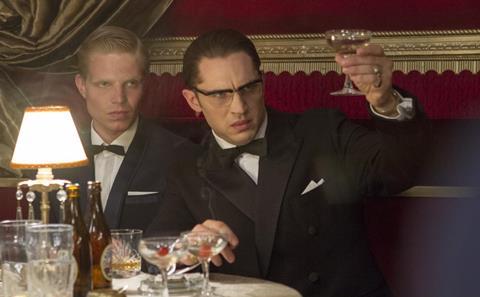 The BFI has released figures detailing the health of the UK's cinema industry in 2015.
Overall admissions were up 9%, rising to 171.9m for the year.
UK independent films, including Legend ($26.3m) and The Second Best Exotic Marigold Hotel ($22.9m), achieved an 11% box-office market share, the third highest on record.
However, production spend on UK domestic titles dropped 7% year-on-year.
According to the BFI's figures, there were 124 domestic UK films produced in 2015 including Viceroy's House and A United Kingdom, generating $283.5m in spend.
This is a drop on 2014, when 154 titles generated $304m in production spend, although the BFI is still collecting data relating to last year so the 2015 figure will likely rise.
The 11% market share figure was spread across a wider range of titles than in previous years, where one or two key titles performed particularly well. In 2015, eight independent films took more than $7m each.
In 2014, buoyed in part by the huge success of The Inbetweeners 2 and Paddington, UK independent market share finished on a whopping 16.1%.
The 11% 2015 market share for local films compares with 55.4% in Japan, 35.2% in France, 25% in Germany, and 18.9% in Spain.
Other independent titles to perform strongly in 2015 included Sarah Gavron's Suffragette ($14.3m), Aardman Animations' Oscar-nominated Shaun The Sheep Movie ($20m), and Asif Kapadia's Oscar-nominated documentary Amy ($5.4m).
Blockbusters including Star Wars: The Force Awakens, Spectre and Jurassic World helped raise the overall total to record levels. As previously reported, the UK box office hit a new high in 2015.
Key stats
UK independent films achieved an 11% market share in 2015 - the third highest on record
2015 sees highest ever UK box-office takings: $1.77bn (£1.24bn), up 17% on 2014
UK cinema admissions up 9% to 171.9m
UK spend from film production tops $2bn (£1.41bn) – the second highest on record
UK spend from High End Television programmes hits $1.09bn (£759m) – up 20% on 2014's $906m (£633m)
Highest grossing UK independent film in 2015 was Legend, taking $26.3m (£18.4m), with The Second Best Exotic Marigold Hotel in second place on $22.9m (£16m)
Spend on UK domestic productions down 7% in 2015 to $283.5m
Production spend
Film production spend was down 6% on 2014's record-breaking total of $2.1bn, though still recorded the second-highest total on record with $2bn.
Of that spend, 84.5% was from inward investment including Rogue One: A Star Wars Story and Assassin's Creed, which generated $1.69bn from 47 titles.
Co-productions including The Danish Girl and I, Daniel Blake generated $50.1m production spend.
In the television sector, 82 programmes including the sixth series of Game Of Thrones drove a UK spend of $1.09bn in 2015, up 20% on 2014.