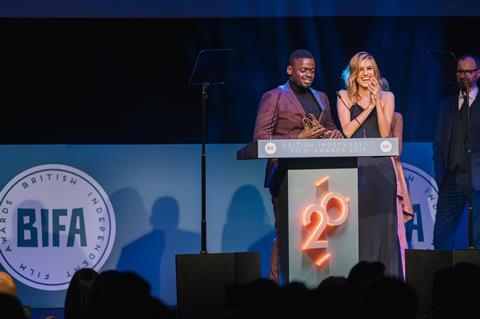 The British Independent Film Awards (BIFA) is adopting the BFI's Diversity Standards for eligibility for the Best British Independent Film award from 2019.
It is piloting the initative in 2018.
The new BIFA rule states: 'Films that wish to compete for the Best British Independent Film award must this year be assessed against the BFI's Diversity Standards. As a pilot in 2018, there is no requirement that films meet the standards this year, though it is our aim that from 2019 all films longlisted in the Best British Independent Film category meet at least two of the four BFI Diversity Standards.
According to BIFA, it is adopting the standings 'to encourage filmmakers at all levels of the industry to embed these important Standards in their practices, building towards an industry that is more representative and inclusive of the whole of the UK'.
'The pilot enables producers and filmmakers to become familiar with the process, which we hope will inform their future projects as well as ensuring projects are not penalised in what we see as a transitional year.'
The four requirements are:
On-screen representation, themes & narratives
Project leadership & creative practitioners
Industry access & opportunities
Opportunities for diversity in audience development
They are the same criteria required to obtain Lottery funding through the BFI Film Fund.
The standards were designed to improve diversity in relation to race, disability, gender, age, sexual orientation and socio-economic status across workforces and in the portrayal of under-represented stories and groups on screen.
Last month Bafta confirmed all entries for its outstanding British film and outstanding debut by a British writer, director or producer categories must now meet at least two of the four standards.
Further changes
In further rule changes, BIFA now stipulates British and international feature films eligible for the awards through screening on general release in the UK must have had a minimum of seven screenings in aggregate.
This rule is solely applicable for films with formal UK distribution; self-distributed features are not required to meet this criterion. It also does not apply to films attaining eligibility through festival screenings.
BIFA will also now subject films submitted by Netflix and Amazon to the same rules as those submitted by the US studios. This means films produced by the US streaming companies must have been originated by third-party producers and have budgets of less than $20m to be eligible.
The 2018 awards ceremony will be held on December 2 at Old Billingsgate Market in London.
Nominations will be announced on October 31, with longlists for the new talent categories in mid-October. Entries are now open and will close on September 3.
BIFA has added Curzon CEO Philip Knatchbull to its board of directors, replacing Lionsgate UK's Zygi Kamasa in the 'distributor' board role. DDA has become the awards' new PR company, handling press relations throughout the year and red carpet ceremony duties.
Francis Lee's God's Own Country won four awards at last year's BIFAs, including best British independent film, best actor for Josh O'Connor and best debut screenwriter for Lee. Further winners included best actress to Lady Macbeth's Florence Pugh and a best director/best debut director double for I Am Not A Witch's Rungano Nyoni.