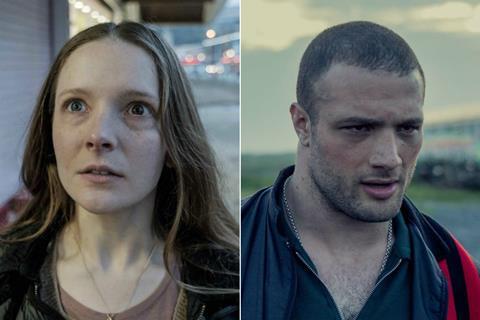 Update (20/11): Longlists for most promising newcomer, international film and documentary have also been released.
The British Independent Film Awards (BIFAs) has moved its ceremony from its traditional early December slot to February 2021 as it announces the longlists for six categories this week.
The nominations will be announced on December 9 and winners revealed "in early February", according to BIFA. An exact date and format of the ceremony has yet to be announced.
Scroll down for the New Talent longlists
Rose Glass' horror Saint Maud and Nick Rowland's drama Calm With Horses are two of six films included in all three longlists for the BIFA 2020 New Talent categories.
Glass is longlisted for the Douglas Hickox award for best debut director and best debut screenwriter, with Oliver Kassman included for breakthrough producer for Saint Maud; while Rowland, Joseph Murtagh and Daniel Emmerson are longlisted in the director, writer and producer categories respectively for Calm With Horses.
There are 46 filmmakers across the three categories, with 15 titles longlisted in debut director, 15 in debut screenwriter, and 16 in breakthrough producer.
Also represented in all three categories is County Lines, via writer-director Henry Blake and producers Victoria Bavister and David Broder; and horror His House for writer-director Remi Weekes and producers Edward King and Martin Gentles.
The final two titles included in all three categories are Looted, including writer-director Rene Van Pannevis, writer Kefi Chadwick and producers Jennifer Eriksson and Jessie Mangum; and Perfect 10 through writer-director Eva Riley and producer Jacob Thomas.
Also longlisted are screenwriters Jed Shepherd and Gemma Hurley and producer Douglas Cox for their Zoom-set horror Host, which was conceived, written and directed entirely during the first UK Covid-19 lockdown, and has become an international hit via genre platform Shudder. Vertigo Releasing signed a UK and Ireland deal with the streamer in September, and is planning a release for December 4 providing cinemas are permitted to reopen.
Further selections include author Caitlin Moran for her first screenplay How To Build A Girl; Claire Oakley in both director and screenwriter for Make Up; writers Theresa Ikoko and Claire Wilson for Rocks; and director Rubika Shah and producer Ed Gibbs for White Riot.
Women represent 52% of the selection across all three new talent categories, including 53% of debut directors, 56% of debut screenwriters and 48% of breakthrough producers.
A total of 13 out of the 46 filmmakers longlisted were previously named Screen UK and Ireland Stars of Tomorrow, including Glass, Rowland, Murtagh, Emmerson, Weekes, Riley, Oakley, Shah and Wilson.
The 46 longlisted filmmakers will be invited to join BIFA's new Springboard scheme – a programme of continuing professional development aimed at nurturing emerging talent to build on the success of their first features.
BIFA will reveal the longlists for three further categories over the next three days (November 18-20).
BIFA 2020 New Talent longlists
The Douglas Hickox Award (Best Debut Director)
Romola Garai - Amulet
Fred Scott - Being A Human Person
Nick Rowland - Calm With Horses
Henry Blake - County Lines
Remi Weekes - His House
Rene Van Pannevis - Looted
Claire Oakley - Make Up
Catherine Linstrum - Nuclear
Eva Riley - Perfect 10
Billie Piper - Rare Beasts
Aki Omoshaybi - Real
Jennifer Sheridan - Rose: A Love Story
Rose Glass - Saint Maud
Aneil Karia - Surge
Rubika Shah - White Riot
Best Debut Screenwriter
Lucy Brydon - Body Of Water
Joseph Murtagh - Calm With Horses
Henry Blake - County Lines
Remi Weekes - His House
Jed Shepherd, Gemma Hurley - Host [Also written by Rob Savage]
Caitlin Moran - How To Build A Girl
Rene Van Pannevis, Kefi Chadwick - Looted
Claire Oakley - Make Up
Riz Ahmed - Mogul Mowgli [Also written by Bassam Tariq]
Eva Riley - Perfect 10
Billie Piper - Rare Beasts
Aki Omoshaybi - Real
Theresa Ikoko, Claire Wilson - Rocks
Matt Stokoe - Rose: A Love Story
Rose Glass - Saint Maud
Breakthrough Producer
Philip Herd, Theo James - Archive [Also produced by Cora Palfrey]
Daniel Emmerson - Calm With Horses
Victoria Bavister, David Broder - County Lines
Edward King, Martin Gentles - His House [Also produced by Aidan Elliott, Roy Lee, Arnon Milchan]
Douglas Cox - Host [Also produced by Emily Gotto, Samuel Zimmerman]
Irune Gurtubai - Limbo [Also produced by Angus Lamont]
Jennifer Eriksson, Jessie Mangum - Looted
Rajita Shah - Love Sarah
Will Thorne - One Man And His Shoes [Also produced by Michael Marden]
Jacob Thomas - Perfect 10 [Also produced by Valentina Brazzini, Bertrand Faivre]
Ciara Barry, Rosie Crerar - Run
Oliver Kassman - Saint Maud [Also produced by Andrea Cornwell]
Helen Simmons - Say Your Prayers
Sophie Vickers - Surge [Also produced by Julia Godzinskaya]
Sophie Venner - Undergods
Ed Gibbs - White Riot