Disney's animation holds number one with $3.8m (£2.53m) second weekend; Fox's Kingsman: The Secret Service adds $3.3m (£2.2m) for $12.5m (£8.2m); StudioCanal's Shaun the Sheep Movie is the week's highest new entry.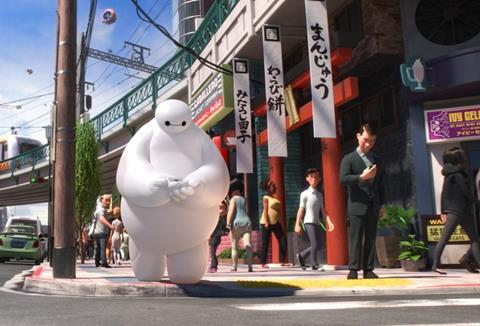 Having narrowly debuted at number one on its UK bow, Big Hero 6 has retained top spot at the UK box office.
Disney's animation fell a slim 34% (excluding previews) on its way to a $3.8m (£2.53m) second weekend for $11.3m (£7.46m) to date. The arrival on Friday [Feb 13] of Fifty Shades of Grey means it's unlikely to record a hat-trick of number ones, although it does have the half term to look forward to.
In terms of Walt Disney Animation Studios outings in the UK, Big Hero 6's next target is The Princess and the Frog's $17m (£11.1m) result.
Also for Disney, Into the Woods has now sung its way to $13.6m (£8.91m) following a $494,000 (£325,000) fifth weekend.
FOX
Holding firm in second was Kingsman: The Secret Service after posting just a 38% drop (excluding previews) to shoot to an extra $3.3m (£2.2m).
Fox's adaptation was the midweek champion in the UK and is currently outgrossing Big Hero 6 with a running total of $12.5m (£8.2m). Barring a dramatic drop, it's in a great position to overhaul the $17.7m (£11.6m) result of Kick-Ass.
Also for Fox, Selma marched to a $1.2m (£779,655) UK opening from its 354 sites, including almost $106,000 (£70,000) in previews. Without awards recognition, it could struggle over the coming weeks but strong reviews and an older-skewing audience could see it enjoy sturdy midweek returns.
Taken 3 took an additional $489,000 (£321,429) for $26.1m (£17.2m) to date and is now unlikely to hit the £20m mark, while Birdman has reached $8m (£5.2m) after six weeks in play.
STUDIOCANAL
This week's highest new entry came in the form of Shaun the Sheep Movie, which grazed on a non-final $3.1m (£2.1m) from its 509 sites on its UK debut.
In terms of Aardman outings in the UK, StudioCanal's big screen adaptation of the children's TV show posted a debut on par with that of The Pirates! In an Adventure with Scientists! and Arthur Christmas in the UK and, with half term around the corner, it could well challenge the final tallies of both ($25.6m/£16.8m and $31.7m/£20.84m, respectively).
While not on the same level as the recent triumphant box office run of Paddington, StudioCanal will be confident that they can deliver another homegrown family hit with Shaun the Sheep Movie.
Also for StudioCanal, Paddington and The Imitation Game have amassed $54.5m (£35.8m) and $24.3m (£15.95m), respectively.
WARNER BROS
Landing fourth on debut was Jupiter Ascending with a solid, if unspectacular, $2.1m (£1.35m) from its 429 sites.
Warner Bros' sci-fi recorded the biggest debut for film-making duo The Wachowskis outside of The Matrix trilogy and will shortly overtake the overall UK gross of both Cloud Atlas and Speed Racer, both of which grossed around $2.6m (£1.7m).
With a soft critical response, Jupiter Ascending may not be able to avoid the fast-burn nature of genre films at the UK box office this weekend.
Also for Warner Bros, American Sniper crossed the £11m mark with a $1.5m (£977,000) fourth weekend for $16.9m (£11.1m) to date, while Inherent Vice fell over 50% in its second weekend to add $219,000 (£144,000) for $1.1m (£735,000) after ten days in play.
UNIVERSAL
Falling 42% in its sixth weekend, Universal's The Theory of Everything grossed $925,000 (£608,000) for $27.1m (£17.84m) to date.
The film could experience a boost this coming week from its Bafta wins, pushing it closer to the £20m mark in the UK.
Also for Universal, Ex Machina posted a $242,000 (£159,000) third weekend for $3.8m (£2.5m), while Trash fell heavily after its soft opening and has grossed $228,000 (£150,000) after ten days in play.
SONY
Controversial comedy The Interview posted a soft UK bow of $427,000 (£281,000) from its 287 sites through Sony.
That's markedly down on the $2.1m (£1.4m) debut of Evan Goldberg & Seth Rogen's directorial debut This is the End, albeit from a wider release at 407 sites.
Also for Sony, Annie and Whiplash have amassed $11.4m (£7.5m) and $2.7m (£1.8m), respectively.
LIONSGATE
Now in its fourth week, Lionsgate's Testament of Youth took a further $76,000 (£49,737) for $2.5m (£1.7m) to date.
Also for Lionsgate, Mortdecai has grossed $1.3m (£830,000).
ARROW FILMS
Released in eight sites through Arrow Films, Amour Fou recorded a non-final UK bow of $9,300 (£6,135) including $3,700 (£2,420) in previews.
CURZON FILM WORLD
Still Life posted a UK debut of $6,700 (£4,424) from its two sites through Curzon Film World, including $2,600 (£1,733) in previews.
UPCOMING RELEASES
This week sees a saturation release for Universal's highly anticipated Fifty Shades of Grey, which will have its eye on a number of records in the UK including biggest debut for an 18-rated film.
Altitude's Love is Strange receives a wide release, while Curzon Film World's Snow in Paradise, Metrodome's Coherence and Dogwoof's Love is All are among the films receiving a limited release.