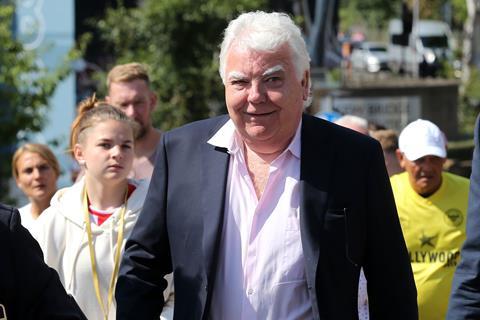 Bill Kenwright, the UK film producer who ran several popular stage shows, has died at the age of 78.
Kenwright had surgery to remove a cancerous tumour from his liver eight weeks ago. A statement from Everton Football Club, of which Kenwright was chairman from 2004 until his death, said Kenwright "passed away peacefully last night [Monday, October 23] surrounded by his family and loved ones."
Kenwright founded Bill Kenwright Films in 1986, having already established a successful career as a theatre and musicals producer.
In the film sector, his credits as producer included Lewis Gilbert's 1991 musical Stepping Out starring Liza Minnelli, for which he was executive producer; Stephen Frears' 2009 romantic comedy Cheri; Rufus Norris' Cannes 2012 feature Broken, with Tim Roth and Cilian Murphy; and Sarmad Masud's My Pure Land, the UK entry to the best international feature Oscar in 2018.
Bill Kenwright Films was rebranded as BKStudios in 2021, with David GIlbery replacing Kenwright as CEO. Kenwright's final credits include Jonathan Kent's Long Day's Journey Into Night starring Jessica Lange, Ed Harris, Ben Foster and Colin Morgan, which is currently in post-production.
Kenwright's stage productions included the UK touring production of Joseph And His Technicolour Dreamcoat from 1983 to 1987; and in 1987, the first UK tour of Blood Brothers, a show to which he returned multiple times throughout his career.
Actor Ian McKellen has posted a tribute to Kenwright on social media, noting "He seemed to have known everyone in the business and to care about them."
Bill Kenwright (1945-2023)
Like many grateful actors I am in debt to Bill Kenwright for employment. "Frank & Percy" at his @TheOtherPalace will be his last theatre production. And "The Critic," will be his last film …. pic.twitter.com/w9qlOwzi26

— Ian McKellen (@IanMcKellen) October 24, 2023
He is survived by his daughter Lucy Kenwright, herself a producer and director; and his partner Jenny Seagrove, the actress.