EXCLUSIVE: Deals with IM Global, SF Studios and Radiant Films.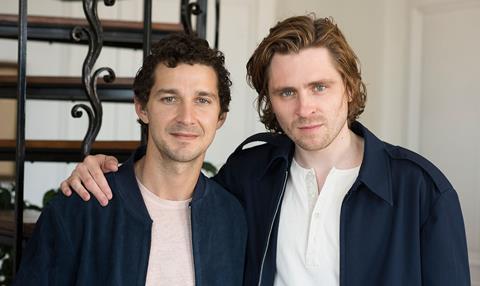 Swiss distributor Ascot Elite has closed deals on a hat-trick of anticipated titles fresh from the Cannes Marche including sports biopic Borg Vs McEnroe, Elizabeth Banks-starrer Rita Hayworth With A Hand Grenade and André Øvredal's fantasy thriller Mortal.
Ascot Elite has acquired all rights for German-speaking Europe (Germany, Switzerland and Austria) to the newly announced Borg Vs McEnroe.
The film, to be directed by Janus Metz, starring Shia LaBeouf as John McEnroe, Sverrir Gudnason as Bjorn Borg and Stellan Skarsgard as Borg's coach.
The film, which is sold by SF Studios, centres on the rivalry between the two tennis stars, who met in 14 matches between 1978 and 1981, each winning seven apiece. But it is the 1980 Wimbledon final that became the stuff of legend, and is considered to be one of the greatest tennis matches of all time.
Ascot jumps on 'Grenade'
Ascot Elite has also acquired all German-speaking Europe rights to Second World War thriller Rita Hayworth With A Hand Grenade from Radiant Films.
The film stars Elizabeth Banks (The Hunger Games, Pitch Perfect) as Caroline Baker, one of the first female war photographers who was shot down over the Pacific and found herself stranded with a marooned Japanese soldier, played by Yôsuke Kubozuka.
Directed by Sloane U'Ren, the script has been written by Antony Neely and is produced by Robert Graf (Hail, Caesar!, No Country For Old Men).
'Mortal' pact
IM Global has sold all rights to fantasy thriller Mortal, from director André Øvredal (Troll Hunter), to Ascot Elite for Germany, Switzerland and Austria.
Robert Sheehan (Misfits, Season Of The Witch) stars in the fantasy adventure about a man who discovers he has God-like powers, based on Norwegian mythology.
Production is slated to take place this summer in Norway. Brian Kavanaugh-Jones of Automatik, Ben Pugh and Rory Aitken of 42 and John Einar Hagen of Nordisk Film Production are producers.
As previously announced, Ascot Elite acquired all rights to hitman thriller The Last Step, starring Jean Reno (Leon), from Moviehouse Entertainment.