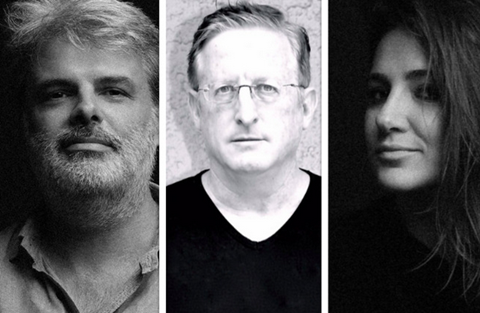 Brazilian producers Mario Peixoto and Mayra Auad have acquired a stake in Los Angeles-based Passage Pictures as the partners build a content stable.
Under the deal the Sao Paulo-based executives have established a fund with Passage to develop and finance its projects as CEO Uri Singer (pictured centre) focuses on elevated genre features for theatrical release, as well as TV series.
Peixoto (pictured at left) is the chairman and CEO of Delicatessen Films, which has produced TV shows for Brazil's leading channels as well as Sony, and MTV. Auad (pictured at right) is the CEO of YourMama Productions, which presides over a collective of producers, directors, writers, and artists who work in features, commercials, and branded content.
"We are very excited with this new venture," Peixoto said. "After building up our production business in Brazil over the last 15 years we have reached a point where we need to expand outside of our home turf, and no better place than in the heart of the movie world: Hollywood."
Singer added, "I could not be happier to partner with Mario and Mayra as we look to grow Passage Pictures into one of the major production houses in the US and beyond. With their experience and funding we will be able to increase the size and number of our productions in the coming months and years ahead."
Singer and his team are collaborating with Los Angeles-based Millennium Media and Campbell-Grobman on the production of Tesla. It is also producing I Am Rose Fatou, a comedic take on email phishing schemes, written by Hidden Figures screenwriter Ted Melfi.
As previously announced, Passage Pictures owns the rights to The King Of Oil and has partnered with John Krasinski's Sunday Night Productions on the biography of billionaire oil trader Marc Rich.
The company also optioned rights to Don DeLillo's White Noise, with Michael Almereyda attached to direct. The slate includes adventure The Zero, and a TV series based on the 2017 sci-fi mystery feature Marjorie Prime.
Passage recently acquired the film and television rights to more than 300 books from Israel's eBookPro.