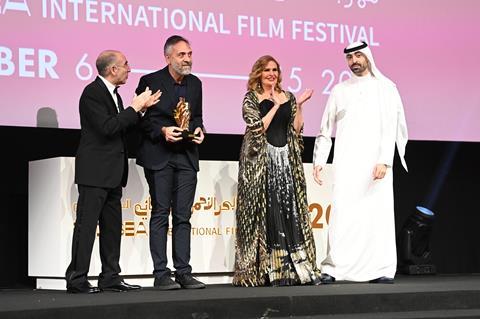 Georgian director Levan Koguashvili's Brighton 4th has won best film at the inaugural edition of Saudi Arabia's Red Sea International Film Festival, unfolding in Jeddah from December 6-15.
It follows a raft of prizes for the New York-set father-son drama that world premiered at Tribeca where it won best international feature, actor and screenplay.
There were 16 features from the Middle East and Africa in the inaugural competition.
Italian director Giuseppe Tornatore presided over the main competition jury with Tunisian actress Hend Sabry, Palestinian-American director Cherien Dabis, Morelia International Film Festival founding director Daniela Michel and Saudi film director Abdulaziz Alshlahei.
The jury prize went to Iranian director Panah Panahi's family road trip feature Hit The Road, which also won the Red Sea's best cinematic contribution award. The film debuted to critical acclaim in Cannes Directors' Fortnight in July.
Italian-Iraqi director Khader Rashid won best director for Europa about a young Iraqi man travelling across Europe who is targeted by vigilantes in Bulgaria. UK-Libyan actor Adam Ali scooped best actor for his performance as the protagonist in the film.
Indonesian actress Arawinda Kirana won best actress for her performance in Kamila Andini's Yuni as a young girl whose education dreams are threatened by pressure to get married.
The Silver Yusr for best screenplay went to Kurdish-Swiss filmmaker Mano Khalil's Neighbours, about a young boy growing up in a village on the Turkish border peacefully co-inhabited by Syrian Muslims, Kurds and Jews, whose previously serene existence is shaken by the arrival of a nationalist teacher from Damascus in his school.
Jordanian director Darin J. Sallam received a special mention for debut feature Farha about a 14-year-old girl growing up in a small village in Palestine in 1948, whose life is changed forever by the arrival of Israeli forces in the region.
The film world premiered in the Discovery strand of the Toronto International Film Festival, and also played in Busan and Rome.
Best short film went to Jordanian filmmaker Murad Abu Eisheh's Tala'Vision about a young girl who escapes her war-torn reality through television.
In Red Sea Immersive section, for which the jury was presided over by Laurie Anderson, Danish filmmaker David Adler won the Golden Yusr for End Of Night, taking the viewer on a journey across the sea from German-occupied Denmark to neutral Sweden in 1943.
The Immersive Silver Yusr went to Taiwanese artist Hsin-Chien Huang's work Samsara, in which the protagonist escapes earth after a global nuclear war in search of a new planet.
In the audience awards, best film went to Egyptian-American director Dina Amer's You Resemble Me. The film which world premiered in Venice sidebar Giornate degli Autori this year explores the life of a young French-Moroccan woman connected to the gang that carried out the Bataclan attack in Paris.
Best Saudi film in the audience awards went to Hamzah Jamjoom's feature debut Rupture about a young Saudi couple who want to start a family and have relocated to London to receive fertility treatment.