UPDATE: The two-time Oscar-nominated British star of The Elephant Man and Midnight Express has died, his publicist confirmed to Screen on Friday night. He was 77.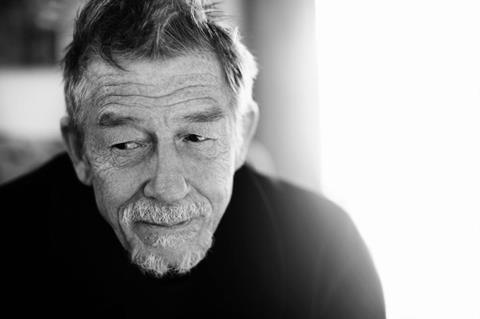 Hurt was diagnosed with pancreatic cancer in 2015 and continued to work after it appeared he had overcome the disease. However last summer he withdrew from the stage revival of The Entertainer upon the advice of his doctors. According to his publicist Hurt had intestinal issues when he died.
He recently played a priest in the Natalie Portman starrer Jackie and was in the cast of Joe Wright's upcoming Second World War drama Darkest Hour for Working Title and Focus Features.
His wife Anwen Rees-Myers issued the following statement: "It is with deep sadness that I have to confirm that my husband, John Vincent Hurt, died on Wednesday 25th January 2017 at home in Norfolk.
"John was the most sublime of actors and the most gentlemanly of gentlemen with the greatest of hearts and the most generosity of spirit. He touched all our lives with joy and magic and it will be a strange world without him.
"I ask that we are allowed to come to terms with our loss without further intrusion. Anwen Hurt."
Mel Brooks, who directed Hurt in History of The World: Part 1, tweeted: "No one could have played The Elephant Man more memorably. He carried that film into cinematic immortality. He will be sorely missed."
Hurt's rugged features and stentorian delivery made him one of the most in-demand and memorable actors of his generation.
Born in Derbyshire in January 1940, he attended art college and the Royal Academy Of Dramatic Art in London before landing TV parts including a single role in the 1960s British TV series Z Cars.
He earned wide acclaim in his first major film role in 1966 as Rich in A Man For All Seasons and six years later earned his first Bafta nomination for serial killer drama 10 Rillington Place.
If that captured the attention of Hollywood, the centre of the film world was made to wait a little longer. Hurt's next milestone was an acclaimed performance as British raconteur and gay icon Quentin Crisp in The Naked Civil Servant, which earned him a Bafta best actor award in 1975.
By way of I, Claudius and various film and TV parts Hurt landed the role of Max in Alan Parker's Midnight Express, earning his first Oscar nomination and clinching the Golden Globe and Bafta supporting actor prizes in 1979.
This was the start of a rich vein of form that ensured his place in the pop culture. He voiced Hazel in Watership Down, the animated British allegory about Facism, before landing a key role in Ridley Scott's Alien as Kane, the unfortunate astronaut whose stomach incubates a hostile creature with wanderlust.
Hurt dazzled again as John Merrick, the disfigured, sensitive Victorian side-show freak in David Lynch's 1980 drama The Elephant Man. That role earned his second Oscar and Golden Globe nods, this time for best actor, and another Bafta win.
He starred in Heaven's Gate and History Of The World Pt 1 and British films like Champions, playing the jockey Bob Champion, as well as Nineteen Eighty-Four, in which he played the lead Winston Smith.
Later film credits included White Mischief, The Field, Even Cowgirls Get The Blues for Gus Van Sant, Hellboy, V For Vendetta, Snowpiercer, Tinker Tailor Soldier Spy, and a recurring role as Ollivander in the Harry Potter franchise.
He completed several as-yet-unreleased films: drama That Good Night, thriller Damascus Cover, and sports drama My Name Is Lenny.
Stage credits included Krapp's Last Tape by Samuel Beckett, while his later TV appearances included the role of the War Doctor in the 2013-14 season of Doctor Who.
Hurt received a Bafta in 2012 for outstanding British contribution to cinema and a knighthood in 2015.
He is survived by his fourth wife Rees-Myers and sons Alexander and Nicholas.