Voltage Pictures financed Once Upon A Time In Venice. Separately, Mongrel Media to distribute Colossal in Canada; Saban Films acquires True Crimes.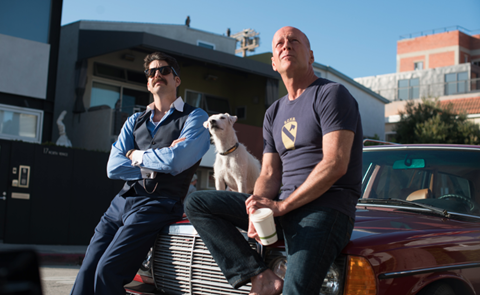 RLJ Entertainment has picked up all US rights from Voltage to the action-comedy Once Upon A Time In Venice.
The film will open theatrically and on VOD on June 16 and stars Willis as a private eye in Venice Beach, California, who takes on a local gangster when his beloved dog is kidnapped.
The ensemble includes John Goodman, Thomas Middleditch, Justice League and Aquaman star Jason Momoa, X-Men's Famke Janssen, Adam Goldberg and Kal Penn.
Mark Cullen directed and reunites with Willis after he co-wrote the 2010 Kevin Smith action-comedy Cop Out with Robb Cullen.
Voltage Pictures chief Nicolas Chartier produced with Laura Ford, Zev Foreman, Cullen and Cullen. Voltage president and COO Jonathan Deckter served as executive producer with Stephen J. Eads.
Voltage financed and produced the project and sold out to international buyers as an untitled action-comedy in Cannes 2015.
"We are excited to work with such a talented ensemble cast, with Bruce Willis at its helm," said RLJE chief acquisitions officer Mark Ward. "Bruce Willis is an iconic actor known for his action roles and impeccable comedic timing. We're proud to bring this film to the big screen and various platforms."
Mongrel Media has come on board to distribute Colossal in Canada. Anne Hathaway, Jason Sudeikis and Dan Stevens from Beauty And The Beast star in Nacho Vigalondo's monster comedy by Brightlight Pictures that opens in Canada on April 21, two weeks after the US release through Neon. Brightlight has a three-year, five-film pact with Voltage, which handled international sales on Colossal.
Saban Films has picked up North American rights from WME Global to Alexandros Avranas's thriller True Crimes starring Jim Carrey and Charlotte Gainsbourg. Jeremy Brock adapted the screenplay from a New Yorker article about the investigation into a murdered businessman. RatPac Entertainment's Brett Ratner and John Cheng produced True Crimes with InterTitle Films' David Gerson, and Los Angeles Media Fund's Jeffrey Soros and Simon Horsman.