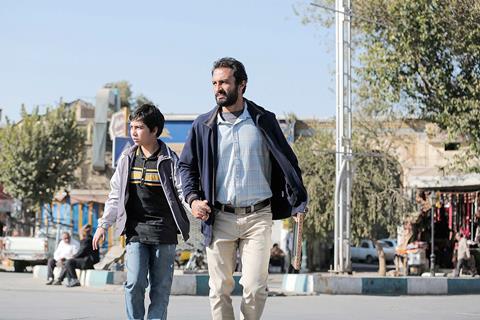 Memento International has unveiled a raft of deals for Iranian director Asghar Farhadi's Cannes Palme d'Or contender A Hero ahead of its world premiere on Tuesday (July 13).
Amazon Studios, which announced its acquisition of US rights in April, has since added Canada.
In European deals, the feature has been acquired for the Baltics (Kino Pavasaris), Benelux (Cinéart), Bulgaria (Bulgaria Film Vision), Finland (Cinema Mondo), Germany and Austria (Neue Visionen), Greece (Spentzos), Italy (Lucky Red), Poland (Gutek Films), Portugal (Alambique), Scandinavia (Scanbox), Spain (A Contracorriente), Switzerland (Filmcoopi) and Ex-Yugoslavia (Megacom).
In the rest of the world, it has sold to Australia (High-Gloss) and New Zealand (Vendetta), China (Road Pictures), Israel (Lev Cinema/Shani Films), Turkey (Bir Film), Russia (Provzglyad), Latin America (California Filmes), Hong Kong (Golden Scene), South Korea (Jinjin), Taiwan (Moviecloud), India (Impact Films) and Indonesia (PT Falcon).
A deal for the UK and Ireland has yet to be confirmed.
"It's a very strong story and a number of faithful distributors have come back on board for this film," said Memento International head of sales Mathieu Delaunay.
Set in contemporary Iran, the drama revolves around a man who is in prison because he is unable to repay a debt. While on a two-day release, he attempts to convince the creditor to change the terms, but things do not go to plan.
It marks Farhadi's fourth time in Competition at Cannes after The Past, The Salesman and Spanish-language drama Everybody Knows.
The Past won the prize of the ecumenical jury for while Bérénice Bejo clinched best actress. The Salesman won best screenplay. while Shahab Hosseini won best actor.
Farhadi has yet to clinch the Palme d'Or but both The Salesman and A Separation went on to win the Oscar for best foreign-language film in 2012 and 2017 respectively.
The director also produced the new film under the banner of Asghar Farhadi Production with long-time collaborator Alexandre Mallet-Guy at Memento Production. Mallet-Guy's Memento Distribution will release the film in France on December 22.