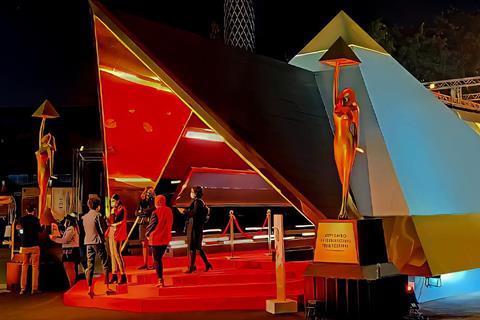 The Cairo International Film Festival (CIFF) has announced its 44th edition will run on the earlier dates of November 13-22, having unfolded towards the end of November in recent editions.
The announcement comes as veteran actor Hussein Fahmy and filmmaker and experienced programmer Amir Ramses take over the reins of the festival as president and director respectively, following the departure of former CIFF president Mohamed Hefzy.
The earlier dates will see CIFF clash with another major Middle East and North Africa event, Morocco's Marrakech International Film Festival (MIFF).
Marrakech had previously announced its 19th edition will run November 11-19. It is hoping to hold its first physical edition this year since 2019, after being forced to cancel its 2020 and 2021 editions due to the Covid-19 pandemic.
In recent years, MENA's festivals have quietly negotiated behind the scenes to prevent their dates from overlapping.
There had been expectations that CIFF would retain the end-November, start-December slot of 2021, to dovetail with Saudi Arabia's Red Sea International Film Festival, running December 1-10 this year in the port city of Jeddah.
In 2021, this arrangement resulted in a number of international industry guests travelling directly from Cairo to Jeddah, in spite of the challenge of travel amid the pandemic.
The MENA region's other major autumn film festival, in El Gouna, will take place in October. It took the unusual step last year of announcing the dates for its next three editions. These are October 13-21, 2022; October 12-20, 2023; and October 17-25, 2024.
CIFF said submissions for the 44th edition would officially open on May 15 and close on August 15.
"We have already started to watch, invite and follow up on the expected important films of the year along with the programming team," commented Ramses, who was previously artistic director at El Gouna.
MENA film festival autumn 2022 calendar
El Gouna Film Festival - October 13-21, 2022
Marrakech International Film Festival - November 11-19, 2022
Cairo International Film Festival - November 13-22, 2022
Red Sea International Film Festival - December 1-10, 2022