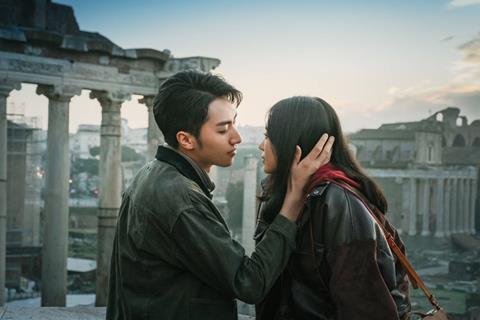 The Far East Film Festival (FEFF), held in the Italian town of Udine, has unveiled the full line-up for its 24th edition, including 13 world premieres.
The festival, which has established itself as a European showcase for Asian cinema, is set to run from April 22-30 and will open with the world premiere of The Italian Recipe from China's Zuxin Hou. The romantic comedy, starring Huang Yao and Liu Xan, is mostly set in Rome and marks just the second official co-production between Italy and China.
It is one of 72 titles from 10 Asian countries in FEFF's 2022 selection, of which 42 will play in competition.
At a press conference today, organisers announced that the festival will retain a digital element, first introduced when the Covid-19 pandemic forced the event online-only in 2020 and was carried over into a hybrid edition the following year.
A total of 28 films from the programme will be available for the duration of the festival on a platform managed by Italy's MyMovies.it, with the exception of four features that will be available only once on a given day. All will be accessible to viewers in Italy while 14 of the online titles will also be available worldwide.
Features in the Competition section hail from China, Hong Kong, Japan, Malaysia, the Philippines, Taiwan and Thailand, with South Korea leading the pack with 10 titles that include world premieres of Jae-hoon Choi's The Killer and Jae-won Lee's Thunderbird.
From China, Li Ruijun's Return To Dust will receive its Italian premiere, following its debut in Competition at the Berlinale in February and a raft of recent sales by M-Appeal.
Sunny Chan's anticipated Hong Kong comedy Table For Six will world premiere at FEFF, after being pulled from a planned Chinese New Year release due to a shutdown of cinemas in Hong Kong linked to a surge in coronavirus cases.
Table For Six actress Stephy Tang will attend the festival and introduce the film as well as another feature in which she stars, Aubrey Lam's Twelve Days. Tang received Screen International's Rising Star Asia Award at the New York Asian Film Festival in 2018.
As in previous years, a public vote will decide the winners of most of the festival's Mulberry Awards. A special jury including Italian directors the Manetti Bros and International Film Festival Rotterdam director Vanja Kaludercic will assign the White Mulberry Award for best first film.
A new Mulberry Award for best screenplay is introduced this year with a jury comprising Massimo Gaudioso, screenwriter for Matteo Garrone; writer Doriana Leondeff; filmmaker Francesco Munzi; and producer Silvia D'Amico.
The nine-day festival will also include events for industry such as the Focus Asia seminar series and Ties That Bind, a workshop dedicated to co-production between Asia and Europe.
As previously announced, iconic Japanese actor and filmmaker Takeshi Kitano is to attend the festival and receive the Golden Mulberry award for lifetime achievement. FEFF will screen two of his films: 1993 yakuza feature Sonatine and Kinji Fukasaku's seminal 2000 action drama Battle Royale.