Following last year's disappointing Cannes showing for UK movies, with only one Polish-language UK co-production in Competition (Cold War), this year's presence looks to be an improvement.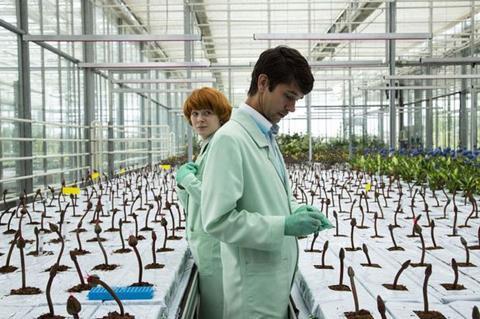 Following today's announcement, which saw 90% of the Official Selection titles unveiled, two films with significant UK involvement have been selected for Competition.
Ken Loach's Sorry We Missed You sees the director once again break his own record with his 14th selection – his latest film focuses on the UK's gig economy. Loach's last film I, Daniel Blake in 2016, won the director his second Palme d'Or.
Joining Loach is Jessica Hausner's Little Joe. Starring Emily Beecham and Ben Whishaw, the sci-fi drama is about about a plant created via genetic engineering that appears to produce curious changes in the people and animals with whom it comes into contact. Austrian director Hausner's previous film Amour Fou premiered in Un Certain Regard in 2014.
Both of the UK Competition selections are co-productions with European partners. Sorry We Missed You is a co-production between the UK's Sixteen Films, France's Why Not Productions and Wild Bunch, and Belgium's Les Films du Fleuve. Little Joe is a co-pro between the UK's The Bureau, Austria's Coop99 Filmproduktion, and Germany's Essential Filmproduktion.
As the UK continues to grapple with the process of leaving the EU, it seems unlikely co-producing with Europe will get easier, but the Cannes selection is a timely reminder of the significance of the country's European partners.
"As European co-productions, they [Sorry We Missed You and Little Joe] are brilliant examples of what can be achieved through our vital creative and economic partnerships with Europe," said Ben Roberts, deputy CEO of the BFI which backed both films.
"It's fantastic to see two brilliant British films made with our international partners take centre stage," said Rose Garnett, director of BBC Films which also backed both titles.
Joining those Competition titles are Asif Kapadia's hotly-anticipated Maradona documentary, about the legendary and controversial footballer, and the festival has confirmed the man himself will be in attendance for the Out of Competition screening. Kapadia's Oscar-winning Amy played as a Cannes Midnight Screening in 2015. Maradona was produced by On The Corner Films with Film4 and Lorton Entertainment.
Also Out of Competition is Dexter Fletcher's Rocketman, with the film's real life subject, Elton John (played by Taron Egerton in the film), set to appear on the Croisette. The film was produced by the UK's Marv Films and Rocket Pictures with US outfit New Republic Pictures for Paramount.
In the Special Screenings selection, Waad Al-Khateab and Edward Watts will premiere their documentary For Sama, about a young woman's struggles with love, war and motherhood over the span of five years in Syria. The film was produced by Channel 4, Frontline and PBS.
Both Maradona and For Sama are UK productions, while Rocketman is a UK-US co-production.
Last year, outside of the Cannes Competition programme, there was UK involvement in Kevin Macdonald's UK-US Whitney doc and Terry Gilliam's The Man Who Killed Don Quixote (a Spain, Belgium, France, UK, Portugal co-pro), though both films were added after the festival's main announcement.
With 10% of the Official Selection still to come, as well as the Directors' Fortnight and Critic's Week programmes and Cannes Classics (which last year featured Mark Cousins' UK doc The Eyes Of Orson Welles), there is still the possibility of more Brit involvement.
UK films in recent Cannes Competition selections:

2019
Little Joe, Jessica Hausner (Austria-UK-Germany)
Sorry We Missed You, Ken Loach (UK-France-Belgium)
2018
Cold War, Paweł Pawlikowski (Poland-UK-France)
2017
The Killing Of A Sacred Deer, Yorgos Lanthimos, (Ireland-UK-US)
You Were Never Really Here, Lynne Ramsay (UK-US-France)
2016
American Honey, Andrea Arnold (UK-US)
I, Daniel Blake, Ken Loach (UK-France)
Loving, Jeff Nichols (US-UK)
2015
Carol, Todd Haynes (UK-US)
The Lobster, Yorgos Lanthimos (Greece-France-Ireland-Netherlands-UK)
Macbeth, Justin Kurzel (UK-France-US)
Tale Of Tales, Matteo Garrone (Italy-France-UK)
Youth, Paolo Sorrentino (Italy-France-Switzerland-UK)
2014
Mr. Turner, Mike Leigh (UK)
Jimmy's Hall, Ken Loach (UK-Ireland-France)