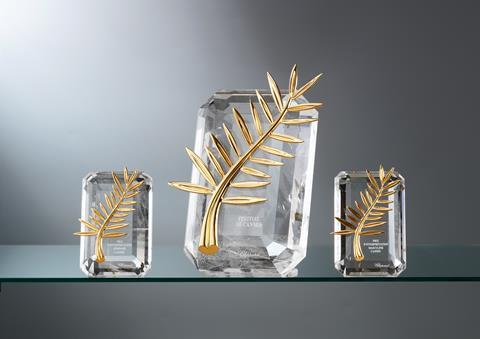 The Cannes Film Festival has awarded its only Palme d'Or of the year to Egyptian director Sameh Alaa's short film I'm Afraid To Forget Your Face, at its three-day special event in Cannes.
It was one of 11 short works in the main short film competition of the symbolic event, running October 27-29, some five months after the festival was forced to cancel its 73rd edition in May due to the Covid-19 pandemic.
The jury comprised producer Charles Gillibert; actors Damien Bonnard and Céline Sallette, and filmmakers Claire Burger, Rachid Bouchareb and Dea Kulumbegashvili.
On Wednesday evening, the same jury feted Indian director Ashmita Guha Neogi's Catdog with the top €15,000 prize, in the Cannes Cinefondation film school competition, featuring 17 student films.
Polish filmmaker Yelyzaveta Pysmak won the €11,250-second prize for My Fat Arse And I while the €7,500 prize was shared by Romanian director Lucia Chicos's Contraindications and I Want To Return Return Return by German filmmaker Elsa Rosengren.
The special event was conceived partly as an act of solidarity for Cannes, the economy of which has been hard hit by the pandemic, and as a sign of resistance for the cinema world.
It was supposed to have ended on a happy note with French Tech on Thursday evening. Instead, the closing night was overshadowed by a terror attack earlier on in the day in the neighbouring city of Nice, in which three people were knifed to death in its Notre Dame Basilica.
The festival marked the tragedy by rolling out a black carpet over the top of its trademark red carpet running up the stairs of Palais des Festivals and delegate general Thierry Frémaux called for a minute's silence in memory of the victims.
In the backdrop, the festival was also coming to an end just hours before the start of a new national lockdown aimed at slowing the spread of Covid-19, which will force French cinemas to shut again for the second time this year.
French Tech was among four Cannes 2020 label titles feted with gala screenings at the special event alongside Emmanuel Courcol's comedy The Big Hit, Japanese festival regular Naomi Kawase's Two Mothers and Kulumbegashvili's Georgia-set drama Beginning, which won the Golden Shell for best film, director, screenplay and actress at San Sebastian this year.