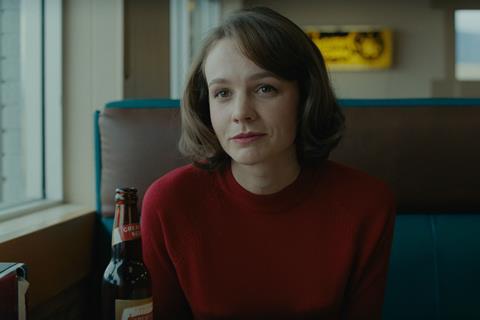 Cannes Critics' Week, devoted to first and second features as well as shorts, has unveiled the line-up of its 57th edition, running May 9-17.
Wildlife, the directing debut of Paul Dano and starring Jake Gyllenhaal and Carey Mulligan, will open the selection. The film premiered at this year's Sundance Film Festival and is based on the novel by Richard Ford.
The closing film is Guy, Alex Lutz's second feature, a "caustic and endearing" comedy about a once famous entertainer.
All seven competition films are by European filmmakers. The line-up includes four female directors.
As previously announced, Norwegian director Joachim Trier will preside over the jury at the Cannes parallel section. He is joined on the jury by actress and director Chloë Sevigny, BPM (Beats Per Minute) star Nahuel Pérez Biscayart, Vienna film festival director Eva Sangiorgi and French culture journalist Augustin Trapenard.
Last year Emmanuel Gras' documentary Makala won the top prize.
Competition titles
(Descriptions supplied by festival)
Fuga (Fugue) The second feature by Polish director Agnieszka Smoczynska, who debuted with The Lure, tells the story of a woman's impossible return to her family life, infusing this psychological thriller with fantasy.
Kona Fer í Stríð (Woman At War) The second film of Icelandic director Benedikt Erlingsson tells the story of a female hero who fights a war on her own to protect an endangered planet.
Sauvage, Camille Vidal-Naquet's first French film, follows the fate of a young man looking for love in the world of male prostitution. Félix Maritaud, whom the public discovered in BPM (Beats Per Minute), stars.
In comedy Diamantino, their first Portuguese feature film, Gabriel Abrantes and Daniel Schmidt imagine a famous football player everybody lusts after.
In her first film, Chris the Swiss, Swiss director Anja Kofmel offers an original blend of documentary and animation. She investigates the story of her cousin, who was found assassinated in the midst of the war in Yugoslavia.
Indian director Rohena Gera debuts with romantic comedy Sir, which describes the budding relationship between a young, open-minded bourgeois young man and his housekeeper who is seeking emancipation, played by Tillotama Shome.

Egy Nap (One Day), the first feature film by Hungarian director Zsofia Szilagyi, explores the life of a couple living under the yoke of routine.
Critics Week 2018 full line-up
OPENING FILM
CLOSING FILM
FEATURE FILMS IN COMPETITION
Chris The Swiss, Anja Kofmel
Diamantino, Gabriel Abrantes & Daniel Schmidt
Egy Nap (One Day), Zsófia Szilágyi
Fuga (Fugue), Agnieszka Smoczyńska
Kona Fer Í Stríð (Woman At War), Benedikt Erlingsson
Sauvage, Camille Vidal-Naquet
Sir, Rohena Gera
FEATURE FILMS SPECIAL SCREENINGS
Nos Batailles (Our Struggles), Guillaume Senez
Shéhérazade, Jean-Bernard Marlin
SHORT FILMS SPECIAL SCREENINGS
La Chute (The Fall), Boris Labbé
Third Kind, Yorgos Zois
Ultra Pulpe (Apocalypse After), Bertrand Mandico
SHORT FILMS IN COMPETITION
Amor, Avenidas Novas, Duarte Coimbra
Ektoras Malo : I Teleftea Mera Tis Chronias (Hector Malo - The Last Day Of The Year), Jacqueline Lentzou
Mo-Bum-Shi-Min (Exemplary Citizen), Kim Cheol-Hwi
Pauline Asservie (Pauline, Enslaved), Charline Bourgeois-Tacquet
La Persistente, Camille Lugan
Rapaz (Raptor), Felipe Gálvez
Schächer, Flurin Giger
Tiikeri (The Tiger), Mikko Myllyahti
Un Jour De Mariage (A Wedding Day), Elias Belkeddar
Ya Normalniy, Michael Borodin