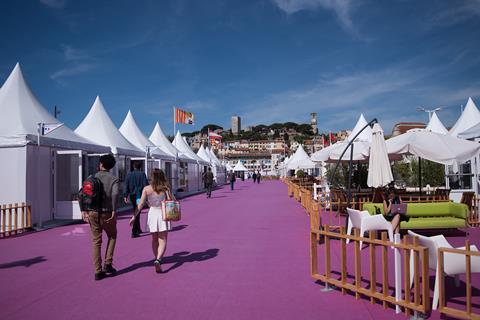 The Cannes Film Festival and its Marché du Film have unveiled the first details of the Covid-19 health and safety protocols that will be in place for its upcoming editions (July 6-17 and July 6-15 respectively).
As well as wearing masks and maintaining social distancing, participants will also be obliged to have signed up for a digital or hard copy health pass, showing a recent negative Covid-19 test result and, if applicable, vaccination certificates. It will not be obligatory to be vaccinated to attend.
International guests will need to sign up for the health pass to enter France so this does not represent a major additional hurdle.
The European Union is currently developing a system of digital health passes, or so-called EU green passes, to facilitate movement between its 27 states as travel starts up again after months of lockdown. They are expected to be operational by the end of June.
The French government and parliament have also voted for the health pass to be obligatory for events with more than 1,000 attendees as well as for travel. The country is currently trialling a digital heath pass, with the aim of bringing it online by June 9.
Food and drink
The festival and Marché also highlighted current French government rules around catering
In good news for event organisers, outdoor and indoor consumption will be permitted in all establishments and there will be no capacity restrictions or limits on table numbers.
Stand-up consumption will only be permitted outside or under tents, but indoor consumption will be limited to table service. Buffet dining will not be possible, however, as dishes and plates cannot be shared. In the case of indoor dining, people will be required to keep their masks on until the first course arrives.
The Marché also revealed that it will be running a Covid-19 screening centre on-site and providing a 24-hour medical concierge service. There will also be a protocol for the management of suspected cases.
The festival and market noted that the protocols would be subject to change.
"The health and safety protocols will be updated accordingly at the beginning of the summer," they said in a joint statement. "Decisions regarding access protocol (Covid-19 tests, temperature checks, etc.) and capacity limitations in certain areas will be decided at that time based on the recommendations from government and local authorities."
In other measures, both queuing spaces and circulation within the Palais des Festivals and other market venues are being redesigned to facilitate social distancing, while there will be hand-sanitising stations throughout.
"Rest assured, the festival team is taking every step and precaution to ensure the Marché du Film and Festival de Cannes is as safe as possible for all attendees and staff," read the joint note.