EXCLUSIVE: Protagonist inks sales on Chloé Zhao's Directors' Fortnight winner.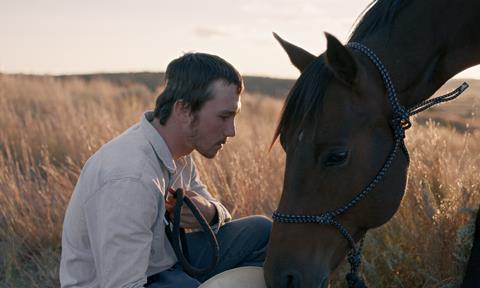 Altitude Film Distribution has taken UK and Ireland rights for Chloé Zhao's The Rider, which won the top prize in this year's Cannes Directors' Fortnight sidebar.
The deal was struck between Altitude's Will Clarke and Vanessa Saal from sales outfit Protagonist Pictures.
The Rider was previously picked up for by Sony Pictures Classics for North America, Latin America, Asia, Australia, New Zealand and Eastern Europe.
Protagonist has now also sold to film to: Les Films du Losange (France), Weltkino (Germany), Caramel Films (Spain), Cherry Pickers (Benelux), Cineworx (Switzerland), NonStop (Scandinavia and Iceland), Shani Films (Israel), Front Row Entertainment (Middle East), Fabula Films (Turkey) and Blue Lake (worldwide airlines).
Separately, Protagonist has also scored a series of further deals on fellow Directors' Fortnight title The Florida Project, which Altitude took for the UK during Cannes.
Following its warmly-received Directors' Fortnight berth, The Rider was presented with the strand's primary accolade, the ART Cinema Award.
Screen's review of the film described it as an "intriguing, exquisite follow-up" to Zhao's debut feature.
The Rider tells the story of a rising star of the US rodeo circuit who is told his competition days are over following a tragic riding accident. It stars real-life ranchers Brady Jandreau, Tim Jandreau, Lilly Jandreau, and Lane Scott, all playing fictionalised versions of themselves.
The acquisition marks a strong Cannes for UK distributor Altitude, which also has on its slate: Andrey Zvyagintsev's Cannes jury prize winner Loveless, Sean Baker's Directors' Fortnight hit The Florida Project, Fabio Grassadonia and Antonio Piazza's Critics' Week opener Sicilian Ghost Story, and Midnight Screening A Prayer Before Dawn.
Will Clarke said: "The Rider is a bold, visceral and heart-breaking feature that demonstrates Chloé Zhao to be an extraordinary rising star.
"Zhao's feature was easily one of the best films in an extremely strong and competitive Cannes and brilliantly recognised in Directors' Fortnight.
"We are also thrilled to be working with Protagonist again on The Rider and The Florida Project, after the success of Lady Macbeth in the UK, and with such young and exciting filmmakers as Zhao, Sean Baker and William Oldroyd."
Read more:
Chloé Zhao talks Cannes Directors' Fortnight premiere 'The Rider'