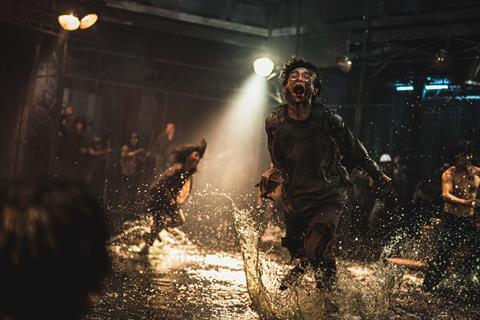 The Cannes Film Festival has announced its special 2020 Official Selection.
Festival President Pierre Lescure and General Delegate Thierry Frémaux revealed the line-up at a press conference in Paris, held without journalists this year.
With the 2020 physical festival cancelled due to the coronavirus pandemic, Official Selection titles will be "supported" by Cannes as they screen in autumn festivals and beyond.
The 56-strong line-up includes Wes Anderson's French Dispatch; two Steve McQueen projects - Mangrove and Lovers Rock; Maïwenn's DNA; Naomi Kawase's True Mothers; Thomas Vinterberg's Another Round and Yeon Sang-ho's Train To Busan follow-up Peninsula.
The titles are not divided up into the usual categories of Competition, Un Certain Regard, Out of Competition, Midnight Screenings or Special Screenings. It includes 15 first films, a higher percentage of female-directed titles and a strong French presence.
Official Selection 2020
The French Dispatch, Wes Anderson (US)
Summer Of 85, François Ozon (France)
Mangrove, Steve McQueen (UK)
Lovers Rock, Steve McQueen (UK)
True Mothers, Naomi Kawase (Japan)
Another Round, Thomas Vinterberg (Denmark)
Last Words, Jonathan Nossiter (US)
DNA, Maïwenn (Algeria, France)
Heaven: To The Land Of Happiness, Im Sang-soo (Korea)
Peninsula, Yeon Sang-ho (Korea)
El Olvido Que Seremos, Fernando Trueba (Spain)
In the Dusk, Sharunas Bartas (Lithuania)
Home Front, Lucas Belvaux (Belgium)
The Real Thing, Koji Fukada (Japan)
Souad, Ayten Amin (Egypt)
Passion Simple, Danielle Arbid (Lebanon)
A Good Man, Marie-Castille Mention Schaar (France)
Love Affairs, Emmanuel Mouret (France)
John And The Hole, Pascual Sisto (US)
Limbo, Ben Sharrock (UK)
Here We Are, Nir Bergman (Israel)
Red Soil, Farid Bentoumi (France)
Sweat, Magnus von Horn (Sweden-Poland)
Teddy, Ludovic and Zoran Boukherma (France)
February, Kamen Kalev (Bulgaria)
Ammonite, Francis Lee (UK)
Médecin De Nuit, Elie Wajeman (France)
Enfant Terrible, Oskar Roehler (Germany)
Nadia, Butterfly, Pascal Plante (Canada)
Septet: The Story Of Hong Kong, Ann Hui, Sammo Hung, Ringo Lam, Patrick Tam, Johnnie To, Tsui Hark, Yuen Woo-Ping (Hong Kong)
Falling, Viggo Mortensen (UK-Canada)
Pleasure, Ninja Thyberg (Sweden)
Slalom, Charlène Favier (France)
Casa De Antiguidades, João Paulo Miranda Maria (Brazil)
Broken Keys, Jimmy Keyrouz (Lebanon)
Ibrahim, Samuel Guesmi (France)
Beginning, Déa Kulumbegashvili (Georgia)
The Death Of Cinema And My Father Too, Daniel Rosenberg (Israel)
Gagarine - Fanny Liatard, Jérémy Trouilh (France)
Spring Blossom, Suzanne Lindon (France)
Vaurien, Peter Dourountzis (France)
My Best Part, Nicolas Maury (France)
Should The Wind Fall, Nora Martirosyan (Armenia)
Striding Into The Wind, Wei Shujun (China)
The Billion Road, Dieudo Hamadi (Democratic Republic of Congo)
The Truffle Hunters, Gregory Kershaw, Michael Dweck (US)
9 Jours À Raqqa, Xavier De Lauzanne (France)
My Donkey, My Lover & I, Caroline Vignal (France)
Les Deux Alfred, Bruno Podalydès (France)
The Big Hit, Emmanuel Courcol (France)
The Speech, Laurent Tirard (France)
L'origine Du Monde, Laurent Lafitte (France)
Aya And The Witch, Goro Miyazaki (Japan)
Flee, Jonas Poher Rasmussen (Denmark)
Josep, Aurel (France)
Soul, Pete Docter, Kemp Powers (US)