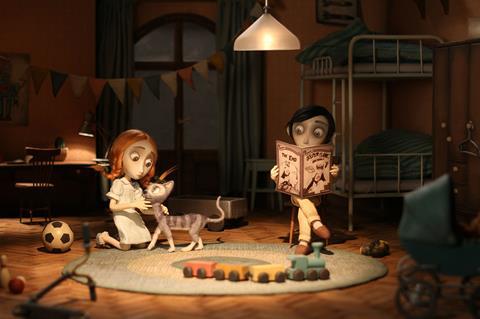 Spanish animator Salvador Simo was voted European director of the year by delegates attending the Cartoon Movie Co-Production Forum in Bordeaux in France this week (March 5-7).
Simo's feature Bunuel In The Labyrinth Of The Turtles, which is being handled internationally by Latido, screened as a sneak preview at the forum.
Stuttgart-based sales agent Sola Media was voted European distributor of the year.
Dutch animation studio Submarine was named European producer of the year. The company is involved with four of the projects presented at the Forum: Bunuel In The Labyrinth Of The Turtles, Nuno Beato's My Grandfather Used To Say He Saw Demons, Ari Folman's Where Is Anne Frank? and Joris Bergmans and Cédric Babouche's In The Forest.
Stop-motion puppet animation film Of Unwanted Things And People which is being produced by the Czech Republic's Maur Film with Slovakia's Artichoke, Slovenia's ZVVIKS and Poland's WJTeam/Likaon, won the €20,000 Eurimages co-development award.
The latter prize was selected by a jury comprised of Dorien van de Pas, head of New Screen at the Netherlands Film Fund, Francois Mergier, director of acquisitions and productions, France, for Studiocanal, and Tom Carpelan, CEO of Finnish distributor, Filmkompaniet.
Projects by Folman, Damian, Killerich in 2020 pitch line-up
New animation features by Ari Folman, Anca Damian, Karsten Killerich were among the 66 projects from 22 European countries presented as a concept, in development, production or as sneak preview.
French animation studios headed the line-up with 22 projects being pitched, followed by Germany with eight, The Netherlands with six, Ireland and Spain with four apiece, and three projects each coming from Belgium, Italy and the UK.
Folman pesonally presented his €16m Where Is Anne Frank? which is being structured as a co-production between Belgium, Luxembourg, Israel, Netherlands and France. Wild Bunch has presold the project to several territories including Benelux, China, France, Russia and Spain.
Producer Paul Thiltges, standing in for his brother Jani of co-producer Samsa Film, said they hoped to close the financing gap of €3m by selling US, Latin American, German and Scandinavian rights.
Damian showed footage from her new completed feature Marona's Fantastic Tale, handled internationally by Charades, and introduced potential partners to her next project, the animated musical The Island based on a contemporary reworking of Daniel Defoe's Robinson Crusoe.
Meanwhile Danish producer-director Karsten Killerich is co-directing and will produce the €6.8m family film Henrietta - The Moovie with Hamburg-based Wunderwerk, with A.Film and Luxembourg's Fabrique d'Images. Universum Film has German rights.
ZDF Enterprises is selling a 52- episode TV series based on the character of Henrietta the cow and her farmyard friends at MIP-TV next month.
Further projects pitched in Bordeaux included:
Matthias Bruhn and Ralf Kukula's € 5.6m Fritzi - A Revolutionary Tale set in the months leading up to the fall of the Berlin Wall in November 1989. Global Screen is handling international sales and will present the film at the Cannes market. German distributor Weltkino will world premiere the film in Leipzig on October 7;
Global Screen will also have a market premiere in Cannes of the €7.9m Bayala - A Magical Adventure, produced by Ulysses Filmproduktion with Studio Rakete and Fabrique d'Images. It will be released in Germany at the end of October 2019;
French-Belgian-Russian co-production Musketeers Of The Tsar, directed by the Italian-born twins Paul and Gaetan Brizzi was described by producer Paul-Boris Lobadowsky as "an adventure comedy with a touch of fantasy". It is written by UK screenwriter and -playwright Shelagh Stephenson;
The €4.5m Pat & Mat will be Dutch filmmaker Marco van Geffen's first foray into animation and will be a feature adaptation of the successful Czech series of the same name. The project is being produced by the Netherlands' Lemming Film with Patmat Studio, the Czech producer of the original TV series. Dutch studio Pedri Animation will do the stop motion work. September Film is attached as Benelux distributor.
Family comedies continued to dominate the selection - with 44 out of 66 projects - but there was a growth in the number of animated feature films aimed at a young adult or adult audience with a total of 13 projects this year including Simo's Bunuel film, Pete Dodd's Kiki, about the life of Alice Prin, the 'queen of Montparnasse' in Paris of the 1920s, and French production house Cinema DeFacto's first foray into animation with Blind Willow, Sleeping Woman, based on short stories by Haruki Murakami.
Spotight on Dutch animation
Nine projects with Dutch participation were pitched at the forum. There were six majority co-productions including Lemming Film's Pat & Mat and il Luster's Benjamin Bat and The King And The Thief, and three minority co-productions with Submarine as partner - Where Is Anne Frank?, My Grandfather Used To Say He Saw Demons, and Bunuel In The Labyrinth Of The Turtles.
"The Dutch animation sector is growing rapidly and there are 30 animation features currently in the pipeline by Dutch producers," said producer Bruno Felix of Amsterdam-based Submarine. "The sector is also growing thanks to the support from our Film Fund, there are more producers, more studios and more creators, and there's more of an audience in The Netherlands for animation.
"What's more," he continued. "The broadcasters and distributors are showing more and more interest in animation. We had to catch up a little but I think we have now got halfway to where we want to go in the future."
2020 dates and Berlinale impact
The 22nd edition of Cartoon Movie will take place in Bordeaux from Tuesday, March 3, to Thursday, March 5, 2020. This will be straight after the 70th Berlinale which will now be closing on the previous Sunday, March 1.
"We had already decided on our dates for 2020 before the Berlinale made its announcement," explained Annika Maes, director of the Forum.
It remains to be seen what, if any, impact will be felt by the close proximity of these two events to each other: this arguably should not be a problem for animation producers coming to Cartoon Movie with their projects as the Berlinale is not necessarily a festival that would be a high priority for most of them.
However, it could be a different matter for some sales agents who are just coming off 10 days of business at Berlin's EFM and then having to contemplate attending another market without any substantial break in between.