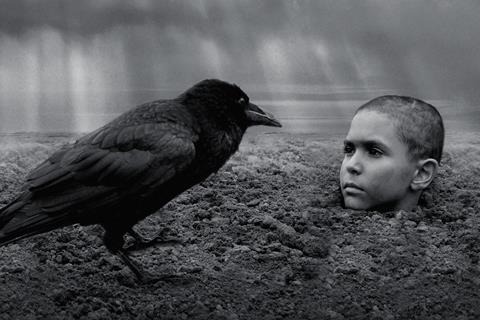 Heading into Cannes, Celluloid Dreams has acquired international sales rights on Czech director Vaclav Marhoul's holocaust tale The Painted Bird, an adaptation of late Polish writer Jerzy Kosinski's classic novel about an orphaned Jewish boy fending for himself in Nazi-occupied Eastern Europe.
Stellan Skarsgard, Harvey Keitel, Barry Pepper, Julian Sands and Udo Kier feature in the ensemble cast in the roles of the various characters who cross the boy's path. Child actor Petr Kotlar makes his big screen debut as "the boy".
"I'm extremely honoured to be representing The Painted Bird," said Celluloid Dreams president Hengameh Panahi. "It is audacious and powerful cinema, replete with revelatory imagery and superb performances."
The feature, which is post-production, joins Celluloid's Cannes slate alongside Un Certain Regard animation The Swallows Of Kabul.
Marhoul has spent more than a decade writing, producing and directing The Painted Bird. He acquired rights to the novel in 2010, shortly after his 2008 feature Tobruk, about the exploits of Czech soldiers in the Second World War Siege of Tobruk in Libya.
First published in 1965, The Painted Bird is a notoriously tough read for the way it depicts the brutality and suffering that the boy experiences and witnesses as he wanders from village to village. Altered forever by his ordeal, he struggles for his soul and future after the war. Most of the language is an invented Slavic "esperanto" with German and Russian.
Although some 55 years have passed since the novel's first publication, it remains relevant amid the current re-examination of inter-ethnic violence in Eastern Europe in the 1930s and 40s, the current global refugee and migrant crisis, and the rise of nationalism and populism worldwide.
"We are made witnesses to the very darkest side of humanity, a world without civilisation and morality, where cruelty reigns. The message right now, when we are so prepared to abandon compassion and our democratic social values just when misery is so great, could not be clearer," said Panahi.
The production reunites Marhoul with cinematographer Vladimir Smutny as well as production designer Jan Vlasak and editor Ludek Hudec, all of whom worked on Tobruk.
Marhoul credits Smutny, whose work is being honoured by the Karlovy Vary Film Festival this year, with creating a stunning portrait of the time on black and white 35mm stock. He also highlights the work of sound designer Pavel Rejholec, who has created an Atmos dolby sound environment for the film.
"I am so pleased to be working with Celluloid Dreams given their dedication to world cinema and to messages of inclusion and compassion," said Marhoul. "This movie takes you to very dark places, but I believe that is exactly how the light can come in. I invite everyone to go on this journey, to look for the light."
The film is produced by Silver Screen in co-production with Czech Television, Eduard & Milada Kucera, Certicon, Innogy, Richard Kaucký, Directory Films (Ukraine), PubRes (Slovakia), Slovak Radio & Televison (Slovakia), and supported by Czech Film Fund, Creative Europe – MEDIA, Ukrainian State Film Agency, Slovak Audiovisual Fund.