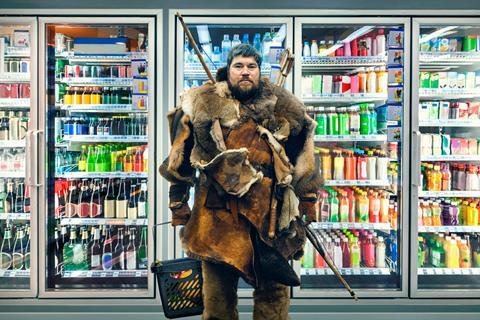 French sales company Charades will launch sales on Danish director Thomas Daneskov's black comedy-thriller Wild Men ahead at the online edition of the EFM, running March 1-5.
Rasmus Bjerg co-stars as a man suffering from a mid-life crisis who heads into the Norwegian mountains, with the intention of hunting and gathering to survive, where he meets an on-the-run drug dealer, played by Zaki Youssef. The pair embark on a hectic trip across the fjords with police, thugs and the man's family in hot pursuit.
Charades has released a new first-look image [above] for the film. The feature is produced by Lina Flint at Nordisk Film Spring, the Copenhagen-based production house behind the kidnap drama The Guilty.
The Paris-based company has a growing track record in handling Nordic film having recently piloted sales on Danish thriller Shorta, which premiered in Venice Critics' Week last year.
In another acquisition from the region, Charades has just boarded Swedish director Max Eriksson's bio-doc The Scars Of Ali Boulala about the titular professional skateboarder whose rock 'n' roll lifestyle came to an end after a drunken motorcycle crash.
Charades connected with the production after it was presented in the work-in-progress showcase of the online edition of the Les Arcs Industry Village in January.
It is produced by Swedish company Sisyfos Film Production which produced Ellen Fiske and Ellinor Hallin's portrait of a declining Scottish steel town Scheme Birds, winner of the best documentary and best new documentary directors awards at Tribeca in 2019. Norwegian company Folk Film co-produces.
The company will also introduce a French drama Her Way by Cécile Ducrocq to the market.
Call My Agent star Laure Calamy plays an independent prostitute and active member of the sex workers union who sacrifices her freedom in order to earn more money to put her son through a prestigious cooking school.
Calamy previously starred in Ducrocq's César winning short film Back Alley and the pair are also connected through Call My Agent on which the director worked as a writer.
Other highlights of the Charades EFM line-up include Japanese director Mamoru Hosoda's upcoming feature animation Belle about a quiet young woman living in rural Japan who takes on the exciting new persona of a world-famous singer in a virtual game world. Charades will unveil a first teaser to buyers.
The company will also world market premiere UK director Philip Barantini's upcoming feature Boiling Point, starring Stephen Graham as a debt-laden master chef struggling to keep his high-end restaurant afloat, which it first announced as being on its slate last May.