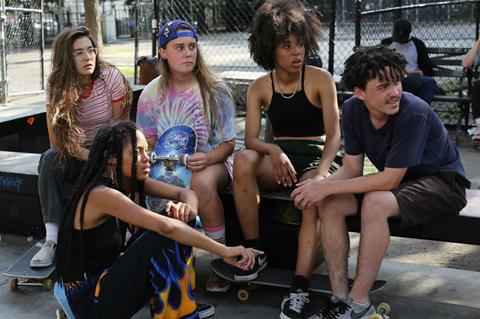 In its first pick-up of an American film, Charades has acquired international sales rights to Crystal Moselle's recent Sundance NEXT entry Skate Kitchen.
Moselle's first narrative feature since she announced her arrival in 2015 with Park City documentary The Wolfpack was just acquired for North America by Magnolia Pictures.
Skate Kitchen follows a Long Island teenager whose life changes when she befriends a group of female skateboarders in New York.
Rachelle Vinberg, Dede Lovelace, Nina Moran, Kabrina Adams, Ajani Russell, Jules Lorenzo and Brenn Lorenzo star alongside Elizabeth Rodriguez and Jaden Smith.
Charades negotiated the deal with UTA Independent Film Group on behalf of the filmmakers. Lizzie Nastro and Izabella Tzenkova produced the Bow and Arrow Entertainment and RT Features presentation in association with Pulse Films and Kotva Films, along with Moselle, Julia Nottingham, Rodrigo Teixeira, Michael Sherman and Matthew Perniciaro.
Executive producers include Lourenço Sant'Anna, Sophie Mas and Thomas Benski, and Magnolia Pictures has acquired the North American rights.
"We are so excited to come on board this incredibly cool and vibrant movie," Charades' Carolle Baraton said. "I was dazzled by the way these girls' energy was captured in this film. Crystal has made a dazzling skate film, while perfectly capturing teenage life in an urban subculture. We look forward to helping this fresh, unique film find its international audience."
Baraton, Yohann Comte and Pierre Mazars launched Charades in January 2017. Its first slate encompasses Coralie Fargeat's Revenge, Ben Stassen's 3D animation The Queen's Corgi and Peter Weber's Reggae documentary Inna De Yard.