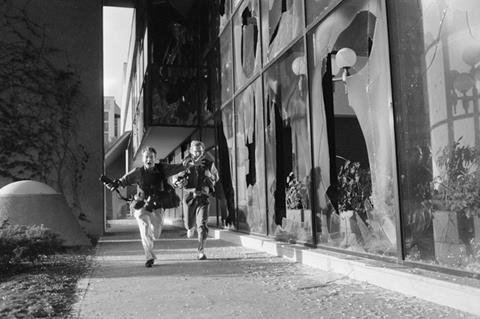 Paris-based sales house Charades will launch sales on Guillaume de Fontenay's Bosnian War drama Sympathy For The Devil, starring Niels Schneider as late French war correspondent Paul Marchand as he covered the Siege of Sarajevo, at the upcoming American Film Market.
Schneider, who won France's César for most promising actor this year for his performance in Dark Inclusion as a man set on revenge, will play Marchand, an adrenaline junkie who covered multiple wars and was known for his flamboyant, devil-may-care approach to dealing with conflict zones.
Running the gauntlet of Sarajevo's Sniper Alley in an unarmoured car, he relentlessly reports the story of the massacre going on all around him to an apathetic Western world. But at a certain point the killing around him becomes too much to bear and he considers taking up arms.
It marks a first fiction feature for Canadian director Guillaume de Fontenay, after an award-winning international career shooting commercials, and is due to shoot in colour early 2018.
French producers Jean-Yves Robin and Marc Stanimirovic at Monkey Pack Films are producing alongside Nicole Robert and Pascal Bascaron at Go Films and Nexus Factory.
French film finance and production company Logical Pictures is on board as a co-financier. Rezo has taken French distribution rights.
Charades previously collaborated with Monkey Pack Films as the international sales agent for French director Coralie Fargeat's US-set thriller Revenge. Stanimirovic was one of the lead producers on the picture which is proving a hit on the festival circuit, after premiering in TIFF's Midnight Madness section, and has also done good sales.
Other Charades projects
This will be the first AFM for Charades since its launch on the eve of Cannes by Yohann Comte, former Wild Bunch sales chief Baraton, Studiocanal executive Pierre Mazars and entrepreneur Constantin Briest.
The company – which wants to handle productions from across a variety of genres – will also launch sales on musical documentary Shut Up And Play The Piano on eclectic, unorthodox musical genius Chilly Gonzales.
Directed by Philipp Jedicke, the film will chart Grammy-winning Gonzales' musical journey from the Berlin punk scene to working with pop artists and philharmonic orchestras around the world.
It features interviews with Gonzales as well as past collaborators as diverse as Peaches. Feist, Jarvis Cocker, Daft Punk, Puppetmastaz and German writer Sibylle Berg.
Stephan Holl, CEO at German distribution and production company Rapid Eye Movies is producing with Gentle Threat on board as co-producers.
Having started out with a focus on independent film distribution in the mid-1990s, Rapid Eye Movies, which distributed musical titles like has branched into the music and visual arts scene in recent years.
Previously announced titles on Charades steadily growing slate include Taiwanese director Lai Kuo-An's adopted child drama A Fish Out Of Water which premiered at TIFF, Peter Webber's upcoming documentary reggae tribute Inna de Yard, Japanese film-maker Mamoru Hosoda's working-titled Mirai, Juan Solanas's Argentinian missing children drama My Name is Luz and Indian director Devashish Makhija's Ajji https://www.screendaily.com/interviews/devashish-makhija-on-busan-title-ajji/5123354.article which premiered at Busan.
Comte said the Charades growing slate reflects the partners desire to help authentic, artistic projects find a market.
"Reaching independence allows us to work with dedicated producers who care more about the artistic consistence than the market value and let us find the economic balance in between," he said.
"These were not projects aimed at pleasing the market but they were sincere and it's up to us to make them economically viable."