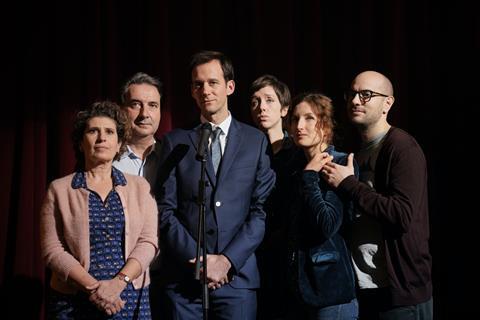 Ahead of this year's Cannes, Paris-based sales company Charades has secured a raft of deals on two titles from last year's Cannes: Laurent Tirard's comedy drama The Speech, which was feted with the Cannes 2020 label, and Chloé Mazlo's Skies Of Lebanon, which received the Critics' Week label last year.
The Speech has sold to Canada (MK2 Mile End), South Korea (Pan Cinema), Austria (Panda), Sweden (Njuta), Singapore (Shaw Organisation), Airlines (Skeye), Turkey (Fabula), Argentina (Zeta Films), India (Big Tree), Uruguay (Movie) and China (Blue Media Times Beijing).
The feature, starring Benjamin Lavernhe as a man whose life is sent into a tailspin after he is asked to make a speech at a wedding, has recently been released in France by Le Pacte
Mazlo's Skies Of Lebanon stars Alba Rohrwacher and Wajdi Mouawad as a Swiss and Lebanese couple whose happy family life in Beirut comes under threat when civil war breaks out.
Charades has signed deals with Spain (Filmin), the US (Dekanalog), Turkey (Bir Film), China (Huanxi Media), Sweden (Folkets Bio), Lebanon and the Gulf (MC Distribution), Australia and New Zealand (Limelight), Indonesia (Falcon), Portugal (Leopardo Filmes), Canada (MK2 Mile End), North Africa (Cinema 7e Art) and Airlines (O'Brien International).
Additionally, Charades has been busy securing new deals for Pierre Pinaud's horticultural-themed comedy The Rose Maker, starring Catherine Frot. It premiered at the Angoulême Francophone Film Festival last summer and has now additionally sold to Hungary (ADS Service), Australia and New Zealand (Madman), Switzerland (Praesens), Italy (I Wonder Pictures), Finland (Cinema Mondo), Sweden (Njuta), Denmark and Norway (Angels Film), Indonesia (Falcon), South Korea (Challan) and Canada (MK2 Mile End).